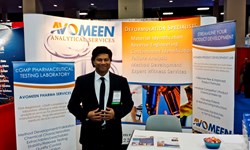 AAPS [Annual Meeting] is a meeting place for scientists from industry, academia and government to collaborate with the singular focus of creating better medicine.
(PRWEB) November 15, 2013
From November 10th-14th, 2013, Avomeen Analytical Services participated in the annual AAPS Meeting and Exposition in San Antonio, TX. As an exhibitor, Avomeen's CEO and Chief Chemist Shri Thanedar, Ph.D. met with leaders in the pharmaceutical industry to discuss new technology and opportunities in the field. There were over 8,000 attendees at this year's show with participants ranging from university researchers to pharmaceutical manufactures. In addition to the exhibitor booths where individuals gather to discuss products and services, the show consists of technical briefings, corporate presentations, and a career fair.
When asked what he thought of this year's program, Dr. Thanedar remarked, "AAPS' Annual Meeting is a meeting place for scientists from industry, academia and government to collaborate with the singular focus of creating better medicine." Dr. Thanedar went on to state that this collaborative environment induces conversations which for him are often as valuable an asset as the formal seminars.
Such conversations for Dr. Thanedar and his team primarily centered on the topic of deformulation. This process involves breaking down a sample to identify and quantify all components of a pharmaceutical product. Attendees at the show expressed keen interest in this complex chemical analysis technique as well asked pertinent questions regarding how deformulation is used within the pharmaceutical industry. Dr. Thanedar explained that, "One of the critical issues in the quality of pharmaceutical products is the presence of contaminants and degradation components. Deformulation is performed to identify these impurities so they can then be minimized or eliminated." He further explained that active drug molecules undergo degradation which can produce molecules that are either ineffective or possibly harmful to humans. Proper testing procedures using technology such as FT-IR, NMR, GC-MS, and LC-MS are necessary to identify and characterize these degradants.
In addition to degradation products, contamination from outside sources is another common problem in pharmaceutical manufacturing that Avomeen's services identify and correct. Such particles found in pharmaceuticals can include metallic and rubber impurities. One example of rubber particulates found in tablets was that of a client who discovered barely visible black particles in their tablets. Upon segregation and analysis Avomeen's chemists found these to be rubber based polymers likely originated from disintegration of a gasket. This analysis helped the manufacture identify the specific failed gasket on the production line and correct the issue. When asked for further detail in how the analysis works, Dr. Thanedar summarized:
"When a contaminated pharmaceutical product is analyzed by HPLC or GC the chromatograph shows unexpected peaks, such peaks can be identified through Mass Spectroscopy. If the Mass Spectroscopy identification isn't conclusive the scientist would separate the contaminant responsible for these peaks using preparative HPLC and perform additional sophisticated characterization using techniques such as high resolution NMR."
Thanedar expressed confidence that the proposed testing protocols will ensure purity and quality for pharmaceutical products. In addition to contamination testing, deformulation and failure analysis, Avomeen also provides exceptional service in the areas of material testing including leachable and extractables for sterile medical packaging.
Avomeen further reported that every year that AAPS continues to host this event, they plan to be involved. Avomeen is grateful for the opportunity to participate in such a collaborative meeting and looks forward to next year's event.