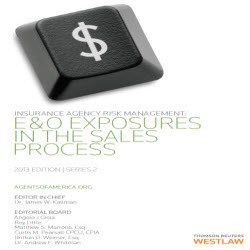 Book Two deals with the wide range of E&O issues relating to this sales process and addresses key issues that every agent needs to understand and be focused on" says Curtis M. Pearsall, Executive Director of the Agents of America Learning Center
Las Vegas, Nevada (PRWEB) November 19, 2013
AgentsofAmerica.ORG (AOA) and West LegalEdcenter, a business of Thomson Reuters, is pleased to announce that Book Two in the series "Insurance Agency Risk Management - E & O Exposures in the Sales Process is now in production and will be available by early 2014.
"Book Two was designed to be very unique in its approach towards E&O loss prevention. Virtually every day, producers and CSRs at insurance agencies are actively involved in the sale and service of new business. This book deals with the wide range of E&O issues relating to this sales process and addresses key issues that every agent needs to understand and be focused on" says Curtis M. Pearsall, Executive Director of the Agents of America Learning Center."The book has chapters dedicated to issues such as: The legal duties and responsibilities of Insurance Agents, how Automation can help or hurt you, why education of your staff and your customers is extremely important, the importance of sales training, and why Exposure Analysis Checklists are the closest thing to a silver bullet in preventing E&O claims. In addition, the topics include the perils and pitfalls of the insurance application, Excess & Surplus Lines, how your proposal can be a great E&O prevention tool and why certificates are generating a sizeable number of E&O claims. I believe that this book is unmatched in the E&O prevention arena and is a must for every agency in today's tough legal society." For complete details and to Meet The Authors
As with Book One which is now available, Book Two will be filed for CE credit in the vast majority of states. The AOA Learning Center will also be providing the contents of the book in a video based format that will compliment the books.
"We're very excited to continue our partnership with AgentsOfAmerica.ORG as we near the release of the second series of the book, E&O Exposures In The Sales Process," says Lee Ann Enquist, Vice President, Thomson Reuters. "The value of the book, expertise of our top notch authors, bundled with continue education credits, brings together a complete package for insurance agents & brokers and their agencies."
Tremendous progress has been made in the development of Book Three which details the E&O exposures of the various lines of business. This book should be available in the Spring of 2014.
AgentsofAmerica.ORG is extremely grateful to its authors and editorial board for their support and expertise. In addition to E&O Insurance expert Curtis Pearsall, the members of the AOA's Editorial Board includes, Editor in Chief, Dr James Kallman of St. Edwards' University, Minneapolis E&O defense attorney Britton Weimer of Jones Satre & Weimer PLLC, Professor Andrew Whitman of the University of Minnesota's Carlson School of Management, Roy Little, President and CEO at Insurance Educational Association, Angelo J. Gioia Founder & Publisher of AgentsofAmerica.ORG and Matthew Marrone defense attorney with Goldberg Segalla LLP in Philadelphia,
Companies or Agencies who have questions about our Risk Management programs should contact Angelo Gioia at angelo(at)agentsofamerica(dot)org Curt Pearsall at cpearsall(at)agentsofamerica(dot)org.
About AgentsofAmerica.ORG
AgentsofAmerica.ORG is an Insurance Association dedicated to the personal and professional growth of its Insurance Agents & Brokers members and their agencies and a indispensable resource for news, products, services, continuing education, and industry information throughout America The organization's mission is to deliver the BEST people, products, information, and services to agents all designed to help them manage and grow their business and provide ongoing value to their clients. In addition, it has become the number one resource for connecting insurance agents with industry professionals, support and guidance on Professional Liability Risk Management, Errors & Omissions Risk Management, Loss Prevention & Loss Control, Insurance Agency revenue building products and opportunities. Our motto is "Bringing the BEST Together." Visit AgentofAmerica.ORG for more information.