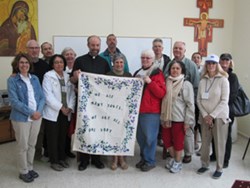 Talking with the local Christians brings these holy sites to life.
(PRWEB) November 17, 2013
Tekton Ministries, a Catholic pilgrimage company based in Indianapolis, IN, has announced that, despite difficulties in Syria and Egypt, pilgrimages to the Holy Land are still in demand. Their next group is departing December 1-11, 2013 and it is full.
Having just returned from Israel and Palestine on Wednesday, November 13, Richard Sontag, director of Tekton Ministries, related that, "Jerusalem was packed!" He continues, "The holy sites were busy and it seemed like every time we turned a corner in the Old City we were running into a new pilgrimage group. It's amazing though. Despite all those people from so many countries around the world there is always a reverence, a respect for the sacred when pilgrims enter the shrines."
Having been to the Holy Land over 15 times, Sontag says it never ceases to amaze him how on each visit God always seems to touch him in a different, more profound way.
He adds, "It's kind of like God's Word, alive and active, never the same, and totally different for two people standing side by side."
So where is the Holy Land one might ask. First, it is in the Middle East located in the country of Israel. Bethlehem, historically the birthplace of Jesus, is a suburb of Jerusalem which is where Jesus was crucified, died and rose again. Nazareth, Jesus' "hometown", is in northern Israel up by the Sea of Galilee where Jesus did most of His teaching.
In the midst of all that, there are lots of other significant places to experience that tell the story of not only Jesus but of His Blessed Mother and the early Apostles and disciples of Jesus.
Of course, these places are not as they were in Jesus' time. However, this is a very good thing as they would have been lost in all antiquity had churches not been built to preserve them. Some of these churches are grand while others are very small and unobtrusive.
In 1342, Pope Clement VI, declared the Franciscans as the official custodians of the Holy Places and they have been caring for them ever since.
Actually, several are currently undergoing restorations to include the roof of the Church of All Nations (at Gethsemane) and the Church of the Nativity (in Bethlehem). A team of specialists trained in mosaics is restoring the beautiful floors in the Church of Dominus Flevit (Where Jesus Weep Over Jerusalem) as well. All these efforts help to keep the holy sites in good repair and ready for pilgrimages to come and experience their significance.
Going on pilgrimage with Tekton Ministries, who is affiliated with the Franciscan Foundation for the Holy Land (FFHL), also affords pilgrims the chance to meet and visit with Palestinian Christians living in the Holy Land.
Some of Tekton's pilgrimages are led by Fr. Peter Vasko, president of the FFHL who says, "The families of these Christians have been here since the time of Christ and talking with them brings these holy sites to life."
The FFHL funds many programs including the Franciscan Boys Home in Bethlehem and Nazareth, as well as providing educational scholarships, subsidized housing and work opportunities for a diminishing Christian population in the area.
Information about this and other Tekton Minisries pilgrimages is available at pilgrimage(at)tektonministries(dot)org or by calling 800-905-3787.