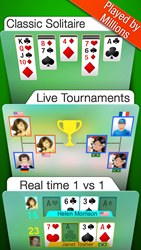 DUBLIN, IRELAND (PRWEB) November 15, 2013
MavenHut Limited today announced that their exceptionally popular social game, Solitaire Arena is now available on mobile platforms such as the iPhone®, iPod touch® and iPad®. The game that has gathered over 5 million players online in less than a year, is set to grow exponentially given its ease of use and access on popular mobile devices.
The Game
Solitaire Arena is a free social, competitive game available on Facebook and for the first time now on the iPhone®, iPod touch® and iPad®. The same rules of Klondike Solitaire apply to this game, so anybody can play. With already more than five million players worldwide, players are guaranteed to be matched with a suitable opponent right away.
The game is the first one vs. one, tournament Solitaire available. The gaming happens in real time, with the same cards, in the same order, so it boils down to the best double Solitaire you can play.
That's Magic
Solitaire Arena uniquely offers you an innovative way of getting unstuck without changing the game dynamic. The player now offers the use of Magic. A button feature that will reveal a face down card to let you continue playing a specific shuffle.
A Twist On The Old Classic
Most recently, industry insider Inside Social Games described Solitaire Arena as a fun take on traditional Klondike Solitaire. They said, "The competitive element gives this normally rather sedate game a feeling of urgency and provides a welcome twist on an old classic."
Women On a Winning Streak
CEO and co-founder of MavenHut, Bobby Voicu, points out that gaming is no longer something only for kids to enjoy. "In just one year we have seen the number of registered and active users grow 5000%. But it is the women online that are on a winning streak. They play often and play well. The new mobile platforms will allow busy people on the move an opportunity to relax and play. Be it waiting for a plane, the doctors office, in the school pickup line. Solitaire Arena allows you bursts of fun and competition in a short amount of time."
About MavenHut Limited
MavenHut provides real-time, multiplayer classic games on multiple platforms. With over 5 Million active users on Facebook, MavenHut's popular game Solitaire Arena is a free app, now designed to be played on the iPhone, iPad and iPod touch. It can run on any device running iOS6 or better. MavenHut is headquartered in Dublin, Ireland. Learn more about MavenHut at http://www.mavenhut.com/.
Press Contact:
Bobby Voicu, CEO,
bobby(at)mavenhut(dot)com
Twitter: @mavenhut
Facebook: https://www.facebook.com/MavenHut
Phone: +4 0731 04 00 88 (Romania)