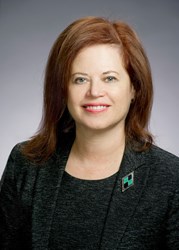 "We are honored to have Barbara join the firm," says Michael D. Fishman, founding partner.
Bloomfield Hills, Michigan (PRWEB) November 20, 2013
Rader, Fishman & Grauer PLLC, a leading intellectual property boutique law firm, is pleased to announce that Barbara Mandell has joined its Bloomfield Hills, MI office as a partner.
Barbara L. Mandell, an IP litigator and commercial arbitrator, began her career as a staff attorney at the Federal Trade Commission, Bureau of Competition, in Washington, DC, investigating, litigating and trying antitrust cases of national significance.
Rader, Fishman & Grauer is looking to Mandell to enhance its litigation practice as she brings over 30 years in complex litigation, including years spent as general counsel. In addition to antitrust, her experience includes disputes involving patent, trademark, computer and Internet law, theft of trade secrets, breach of license agreements and franchise agreements, trade dress and copyright infringement claims, and counterfeiting, unfair competition and false advertising claims.
Companies in diverse industries and with diverse products and services have relied on Mandell for counseling and litigation matters. These industries include the automotive industry and various automotive parts suppliers; producers and vendors of computer hardware and software, silicon wafers, lasers, medical devices, prescription/generic drugs, sporting and hunting equipment, buses, industrial equipment, construction equipment, oil drilling equipment, metal cutting equipment, turbo prop engines, soft drinks and funeral products; hospital and physician services; commercial lending and mortgage banking services; cell phone e-commerce and trade associations; and other not-for-profit organizations.
"We are honored to have Barbara join the firm," says Michael D. Fishman, founding partner. "She has an impressive background representing clients in numerous areas of IP law. Her breadth of experience will enhance our litigation practice to better serve our clients."
To round out her litigation practice, Mandell has served as a commercial arbitrator on over two dozen cases, including resolving discovery disputes, conducting dispositive motion hearings, presiding over numerous trials and writing opinions and awards. She is also a certified commercial mediator.
Mandell earned a J.D. from Boston University School of Law and a B.A. in English from Binghamton University. Having been a partner at very large law firms, Mandell says that an IP boutique best enables her to cost effectively provide outstanding service and value to clients.
For more information about Rader, Fishman & Grauer and Barbara Mandell please visit: http://www.raderfishman.com
_______________________________
About Rader, Fishman & Grauer PLLC:
Rader, Fishman & Grauer, a leading intellectual property law firm, has ranked in the top 10 percent of law firms in the number of new patents and trademarks filed (IP Today). The firm, also a leader in intellectual property litigation, focuses exclusively on patents, trademarks, copyrights, trade secrets and licensing for companies around the world. Offices are in Bloomfield Hills, Michigan; Washington D.C. and Tokyo, Japan.