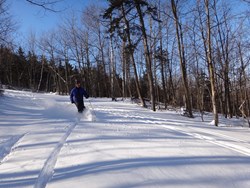 'The Hanover Inn is Dartmouth's 'front door' embodying the sense of community, warmth, and personal attention that defines the Hanover experience.' -- Joe Mellia, Hanover Inn Dartmouth General Manager
Hanover, NH (PRWEB) November 16, 2013
Thanks to Dartmouth access and packages arranged with local partners, The Hanover Inn, a historic Four Star boutique hotel owned by the Ivy League's Dartmouth College, is the preferred address for visitors to this New England college town destination.
In winter, the Inn is a holiday classic, situated directly across from the Dartmouth Green and its iconic Christmas tree. When the snow flies, the hotel's partnership with the Dartmouth Skiway– the place that helped foster 63 Dartmouth alumni who are Winter Olympics medalists – introduces a Ski & Stay package that complements this "hidden gem of the Granite State's historic ski tradition." The Inn's Main Street location encourages guests to enjoy tax-free shopping in downtown Hanover's bookshops, galleries and boutiques (including one of the NH League of Craftsmen's galleries with its juried selection of fine craft) and provides a doorway to Dartmouth and its resources.
The Inn and its restaurant PINE – named one of the "Hot New Restaurants of 2013" – stand directly across the Green from the iconic Dartmouth Baker Library with its vast collections, exhibits and famous bell tower. Immediately adjacent to the Inn and connected by interior walkways are The Hopkins Center for the Performing Arts, the Hood Museum of Art and the new Black Family Visual Arts Center. The Inn's Bed & Breakfast Package, rates starting at $265* is the ideal solution for discerning travelers seeking luxury accommodations, great dining and performing arts, all practically under one roof.
Hood Museum of Art is a treasure box of some 65,000 objects that Dartmouth College started collecting in 1772, just three years after its founding. These collections are among the oldest and largest of any college or university in the country and provide extraordinary access to art, both as a teaching museum For Dartmouth College, and as a public museum. The Hood is open, free to the public, welcoming visitors of all ages. The Museum is open Tuesday through Saturday, 10:00 AM - 5:00 PM (Wednesday until 9 pm) and Sunday, 12:00 noon - 5:00 PM.
The Hopkins Center for the Arts and the new Black Family Visual Arts Center (opened in September 2012) are the performing arts heart of Hanover with concerts, film, Live @ The Met screenings, dance and theater performances. The annual Christmas Revels production is a cherished Upper Valley family tradition. The Hop is also home to the college's multiple performance theater and concert ensembles and hosts a lively Film Society. The Inn regularly accommodates the cast and crew of visiting shows.
Dartmouth is known for its outdoor recreational pursuits. Even the alma mater says of alumni, "the still north remembers them; the hill winds know their name." The Inn also partners with several Dartmouth-owned facilities including: The Dartmouth Skiway.
First opened in 1957, the Dartmouth Skiway is located only 14 miles from the Hanover Inn. This affordable ski and snowboard destination features a ski and snowboard school for beginners, and a terrain park for more advanced riders who want to take their skills to another level. Home to 30 well-groomed trails, three ski lifts, and nearly 100 Dartmouth All-Americans, the Dartmouth Skiway at Winslow Mountain offers 107 skiable acres (62 percent covered by snowmaking) and an estimated 10.25 trail miles of skiing. Headquartered at the McLane Family Lodge, the Skiway operates a Quad chair lift and two double chairs. Trails include 4 Double Black Diamond (13 percent); 4 Black Diamond (13%), 15 Blue Square (50%) and 7 Green Circle (24%). Boarders will find two park areas. The summit elevation is 1,943 feet and the tallest vertical drop is 968 feet. Opened on December 15, 1956, the Dartmouth Skiway plans to open December 14, 2013 and operates 9 am to 4 pm, seven days a week, through March 30, 2014 except for Christmas. The Inn's Ski & Stay Package, rates starting at $293*include luxurious accommodations, breakfast for two and full-day lift tickets for two.
*Based on availability. Does not include tax or gratuity.
About the Hanover Inn (http://www.hanoverinn.com)
Founded in 1780, the Hanover Inn Dartmouth is where tradition meets sophistication. Owned by Dartmouth College and located directly across from the Dartmouth Green, The Hanover Inn is a proud member of the National Trust for Historic Preservation's Historic Hotels. Managed by the Pyramid Hotel Group, The Hanover Inn's striking improvements were spearheaded by a team including Boston developer Richard Friedman (Class of '63) of Carpenter & Co, along with renowned hotel architect Cambridge Seven Associates and interior designer Bill Rooney. Features include 108 luxurious guest rooms and suites, a redesigned lobby, renovated public spaces and a health and fitness center. The Hanover Inn's Minary Conference Center, which was completed in November 2012, offers over 11,000 square feet of state-of-the-art meeting and event space, including the Hayward Room, seven executive conference rooms, and a 4,000 square foot Grand Ballroom. The Hanover Inn opened PINE, a new restaurant created by chef-restaurateur Michael Schlow and Executive Chef Justin Dain in March, 2013.
About Pyramid Hotel Group
Pyramid Hotel Group is a Boston based company which manages and asset manages over 60 hotels and resorts across the United States. In addition to management and asset management Pyramid provides services that include project management, property management, and advisory services for owners and lenders.