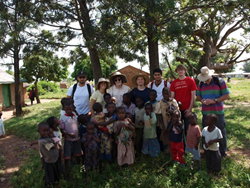 This grant will play a vital role in helping our organization provide a clean sustainable source of water to the residents of Nyambogo, and to bring years of hard work to fruition!
E. Setauket, NY (PRWEB) November 18, 2013
Engineers Without Borders USA is a nonprofit humanitarian organization established to support community-driven development programs worldwide through partnerships that design and implement sustainable engineering projects, while creating transformative experiences that enrich global perspectives and create responsible leaders.
"As a corporate sponsor, PENETRON recognizes the importance – and impact – of the work done by EWB-USA," notes Sue Yi, Director of Operations of the PENETRON Group and long-time EWB-USA supporter. "We're excited and proud to be part of these efforts!"
Penetron has supported EWB-USA chapters in various ways for the last six years. This year's second annual grant contest utilized Facebook as a means of reaching out to the college community and general public to help increase awareness and select a winner from three deserving finalists:

EWB-USA University of Cincinnati Chapter / Nyambogo, Tanzania – create an adequate source of potable water with a new well for this community of approximately 5,000 people in eastern Africa
EWB-USA Tufts University Chapter / Mbale, Uganda – upgrade the Shilongo community's sole water borehole with an automatic system to improve water access (final stage of a multi-year project)
EWB-USA Northeastern University Chapter / Bbanda, Uganda – construct a water distribution system (clean well, rainwater collection, etc.) for this village of subsistence farmers in a community of approximately 1,100 people
And the winner is…
While all three candidates will receive grant funding, this year's first place project – a new well for the Nyambogo village in Tanzania by the University of Cincinnati – was a clear favorite among voters at the PENETRON Facebook page, winning by a margin of over 300 votes.
"After three years of international partnership, the people of Nyambogo are going to have a year-round source of clean water thanks to a lot of hard work from the Nyambogo community, a lot of effort and planning from EWB University of Cincinnati, and a generous grant from Penetron!" said Anton Smith, Nyambogo Project Committee Chair.
EWB-USA's vision is a world in which the communities they serve have the capacity to sustainably meet their basic human needs. Today, more than two billion people lack access to the most basic things -- clean drinking water, adequate sanitation, reliable passage to local markets and more.
"On behalf of Engineers Without Borders USA - UC, I would like to express our appreciation to Penetron for their support," remarks Michael McMahon, EWB-USA UC President. "This grant will play a vital role in helping our organization provide a clean sustainable source of water to the residents of Nyambogo, and to bring years of hard work to fruition!"
"Using sustainable technology and engineering know-how reflects the PENETRON philosophy," adds Christopher Chen, Director of The PENETRON Group. "Congratulations to all the chapters and the students' efforts to help bring sustainable engineering solutions to the communities in need."
Visit ewb-usa(dot)org for more information about the organization.
The PENETRON Group is a leading manufacturer of specialty construction products for concrete waterproofing, concrete repairs and floor preparation systems. The Group operates through a global network, offering support to the design and construction community through its regional offices, representatives and distribution channels.
For more information on PENETRON waterproofing solutions, please visit our website at http://www.penetron.com, email us at crdept(at)penetron(dot)com or contact our Corporate Relations Department at 631-941-9700.