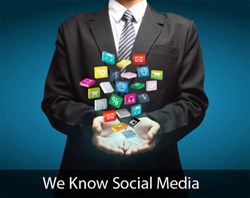 Being able to help businesses succeed means everything to me.
(PRWEB) November 15, 2013
Tobias Thompson Account Executive for the Smith Group offers exceptional expertise in the fields of software website design and development. "Striving to constantly increase my skills and abilities allows me to provide outstanding service to our clients," says Tobias.
Tobias has participated in detailed training programs, earning recognitions of excellence in many technical fields. Tobias has an eye for detail and is passionate about the work he provides. "With the constant changes in technology, businesses must stay up-to-date with customized websites designed to meet their specific business needs," says Tobias.
Customers rely on the Internet to find businesses resulting in the need for websites that are appealing, easy to navigate, viewable on many devices, and user friendly. Tobias' expertise allows him to incorporate these essential components into each website and develop software that enhances the websites abilities.
Tobias has helped many clients reach their online potential. One example includes rebuilding a website for a client with a one page, non-interactive platform. Tobias assisted in developing a creative design to enhance user experience. The website went from one page to a fully functional website offering online reservations, local events, the ability to track analytic data and incorporation of all the major social media platforms such as Google Plus, Facebook and LinkedIn to further improve the company's goals.
"Being able to help businesses succeed means everything to me," Tobias said. "Our clients are gaining a competitive advantage that allows them to reach and engage with potential customers in an engaging and interactive environment. The Smith Group of Companies serves clients across the United States.
Ken, President of the Smith Group of Companies states, "Tobias is a great asset to our organization, he inspires everyone around him each day with a helping hand and a smile on his face".
About the Smith Group of Companies (SGC). The Smith Group of Companies was founded in Rhode Island in 2012 and consists of Ocean State Software, Chesapeake Bay Software, Auto State Software, and Nutmeg State Software. This company has grown with online technology and offers managed website, website design, visual branding, graphic design, content strategies, search engine optimization (SEO), pay-per-click (PPC), information technology support, and social media support – Developing from the ground up. Ten Percent of the profits each year are donated to the Veterans Workshop, a non-profit veteran's organization providing training for blind, deaf and paralyzed veterans. For more information about the mission and services provided by The Smith Group of Companies, please visit http://www.OceanStateSoftware.com.