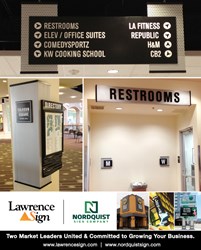 We wanted to be sure the signage was easily visible for pedestrians and stylistically comparable to the existing architecture.
St. Paul, MN (PRWEB) November 18, 2013
Lawrence Sign recently provided a new signage package at the iconic Calhoun Square. Calhoun Square is an upscale retail complex in the Uptown area of Minneapolis, Minnesota.
When two new tenants moved into anchor spaces, the geography of the building changed. Updating interior and exterior signage became necessary and mission-critical to the shopping experience.
"As a popular, landmark building, we wanted to be sure that the signage was easily visible for pedestrians and stylistically comparable to the existing architecture," said John Hollenbeck, Lawrence Sign and Nordquist Sign's National Brand Manager.
To meet this directive, Lawrence Sign collaborated with Bill Wittrock at RSP Architects of Minneapolis on the design. The directories' designs are unusual in that some wrap around columns and are located both interior and exterior. The building has five entrances and each entrance provides guests with a welcome directory allowing for ease of finding stores and restaurants. Lawrence Sign also produced a number of interior signs throughout the complex to assist shoppers. The team at Lawrence Sign fabricated the designs of RSP Architects and installed the signage to create the new look for Calhoun Square.
This particular property maintains the highest continued occupancy rates for a retail building in the Twin Cities. Because of the rare change in occupants, it was important that the Lawrence Sign package provided clear guidance to guests.
"The project was sizable. We completed a total of seven directories plus all of the directional signage," said Hollenbeck. "We were pleased to work on such a recognized property. And our team was particularly diligent with the turnaround time; we were able to complete the project in only four weeks. A project of this scope would typically take eight weeks from start to finish."
The team at Lawrence Sign, while specializing in national brands with multi-site locations, was excited with the opportunity to provide quality products to a unique local landmark such as Calhoun Square.
Lawrence Sign and Nordquist Sign welcome any questions or discussion points you have about custom signage. Do not hesitate to contact them at info(at)lawrencesign(dot)com.
About Lawrence Sign & Nordquist Sign
Lawrence Sign, founded in 1929, designs, fabricates and installs signage for almost every industry servicing local, national and international clientele. Lawrence Sign utilizes advanced technologies and expansive facilities to provide direct in-house control of the entire sign fabrication process. The Company excels at serving companies with a multi-site national and international presence.
Nordquist Sign has been fabricating and installing signage, architectural elements and way-finding signage for over 100 years. Nordquist's customer base and scope of work includes custom signage and environmental graphics for hospitals, sports facilities, themed entertainment, corporate/financial and mass transit industries. Nordquist Sign also maintains a gaming division with offices in Las Vegas, NV and St. Paul, MN to serve casino gaming markets throughout the United States.
In early 2012, Lawrence Sign combined with Nordquist Sign to unite the resources and capabilities of the two companies. Together, Lawrence Sign and Nordquist Sign offer their clients over 175 years of experience in sign manufacturing and installation for all facets of the signage industry.