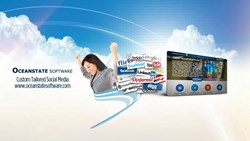 Knowledge is power, sharing that power makes a team capable of achieving anything.
(PRWEB) November 15, 2013
Project Manager Hilary Snyder of Chesapeake Bay Software has achieved true greatness with certifications from Google AdWords, Google Analytics, extensive training on content management systems such as WordPress, Drupal, and the Adobe creative cloud suite of programs. The impressive certifications Hilary has achieved enhance the expertise Chesapeake Bay Software offers and assists in providing outstanding service to clients. As fellow coworker Richard puts it, "Hilary has trained vigorously to become an expert in many areas and shows us all that with dedication and perseverance you can make great accomplishments."
Hilary has also been featured by Google as a suggested user for the technology area. "Always striving to increase my abilities allows me to reach higher every day," Hilary said. "These skills allow me to provide exceptional service to clients while developing, building, and managing client's online presence."
Chesapeake Bay Software was founded in Rhode Island in 2012. This company has grown with online technology and offers managed website, website design, visual branding, graphic design, content strategies, search engine optimization (SEO), pay-per-click (PPC), information technology support, and social media support – from designing a website to creating the social footprint.
Hilary has assisted Chesapeake Bay Software in helping numerous companies across the nation by providing expert advice and recommendations, presenting detailed analytic reports for businesses, building client's websites, integrating systems, moving domains, managing millions of dollars in Ad Words Campaigns, mentoring others, and countless other skills. Hilary has demonstrated the highest level of understanding and ability to assist businesses in developing, enhancing, and optimizing their online presence.
"Our goal is to help our clients reach above and beyond their goals," Hilary states. She continues to increase her skills and is passionate about what she does. She enthusiastically extends advice and recommendations to others.
"Knowledge is power, sharing that power makes a team capable of achieving anything," Hilary said.
Among her many accomplishments Hilary is also the project manager for Veterans Workshop. This is a non-profit organization dedicated to training disabled veterans. As a veteran of the United States Marine Corps Hilary is driven to help other veterans with their goals whether it is training, job placement or quality of life. For information on this organization please visit http://www.veterans911.com.
Chesapeake Bay Software serves many clients across the United States. For more information about the services provided by Chesapeake Bay Software, please visit http://www.OceanStateSoftware.com. Chesapeake Bay Software and Ocean State Software is part of the Smith Group of Companies.