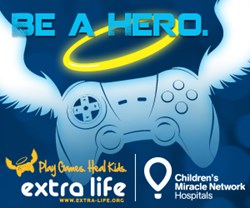 "The support from this community of gamers has blown me away," said Jeromy 'Doc' Adams, Extra Life's founder and a director at Children's Miracle Network Hospitals.
Salt Lake City, UT (PRWEB) November 15, 2013
Extra Life, a Children's Miracle Network Hospitals gaming fundraiser, harnessed the generosity and dedication of video and board gamers to raise a record $3,991,244 for sick and injured kids, despite multiple distributed denial of service (DDoS) attacks to the donation website, extra-life.org.
Participants from every U.S. state, throughout Canada and overseas were originally committed to a one-day gaming event on Saturday, Nov. 2. Each player was sponsored by friends and family to play games for 25 hours, with all donations going directly to the Children's Miracle Network Hospital of the player's choice. Participants expressed interest in a make-up day after malicious attacks rendered the donation website inaccessible for several hours. Thousands more participated on Nov. 9 and, despite another DDoS attack, pushed the fundraising total to $3.99 million, nearly doubling donations collected during the 2012 event.
"The support from this community of gamers has blown me away," said Jeromy 'Doc' Adams, Extra Life's founder and a director at Children's Miracle Network Hospitals. "The tenacity and perseverance of these players to overcome the DDoS setbacks and absolutely crush their fundraising goals has been incredible. I'm also extremely grateful to our partners who helped spread the word and grow this grassroots event that now helps millions of kids fighting for their lives in children's hospitals across North America."
Dollars raised wasn't the only Extra Life record made in 2013. This year's event also involved the highest number of gamers: 43,000 participants, each raising funds for the member hospital of their choice, and its highest social media engagement to date. The Extra Life Facebook page achieved a record number of new likes and the Twitter account, @extralife4kids, gained more followers than ever before. The hashtag #ExtraLifeRT trended on Twitter thanks to major fundraising team "Rooster Teeth" and other Extra Life supporters.
Extra-Life.org is still accepting player sign-ups and donations for member children's hospitals through Dec. 31, 2013. The next annual Extra Life event will take place in late October 2014. Interested participants can visit Extra-Life.org to learn more, to register and to start raising critical funds for local children in need.
Extra Life is in its sixth year and was created by Adams in 2008 to honor his friend, the late Victoria 'Tori' Enmon, a 15-year-old Children's Miracle Network Hospitals patient who played video games during her battle with acute lymphoblastic leukemia. Since then, thousands of Extra Life participants have raised more than $8 million to benefit 170 Children's Miracle Network Hospitals in North America, mostly by playing video and tabletop games. The program's previous fundraising record was in 2012 when it raised $2.1 million.
About Children's Miracle Network Hospitals
Children's Miracle Network Hospitals® raises funds and awareness for 170 member hospitals that provide 32 million treatments each year to kids across the U.S. and Canada. Donations stay local to fund critical treatments and healthcare services, pediatric medical equipment and charitable care. Since 1983, Children's Miracle Network Hospitals has raised more than $4.7 billion, most of it $1 at a time through the charity's Miracle Balloon icon. Its various fundraising partners and programs support the nonprofit's mission to save and improve the lives of as many children as possible. Find out why children's hospitals need community support, and learn about your member hospital, at http://www.CMNHospitals.org and http://www.facebook.com/CMNHospitals.
# # #