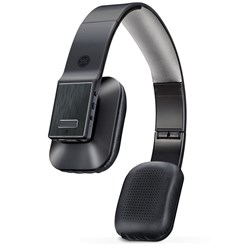 Westlake Village, CA (PRWEB) November 17, 2013
Accessory Power is pleased to introduce the new BlueVIBE DLX Hi-Def Bluetooth Headphones by GOgroove. The BlueVIBE DLX provides the sound quality expected from GOgroove with additional playlist control and hands-free phone function for everyday use. The long lasting 14-hour rechargeable design maximizes convenience and puts this model at the top of its class.
With a frequency range of up to 2.48GHz, the GOgroove BlueVIBE DLX offers crisp highs, full midrange, and booming bass with virtually any media device that utilizes Bluetooth audio or a 3.5mm headphone port. Equipped with onboard playback controls including volume and an integrated microphone, the BlueVIBE DLX supports hands-free calling and control of audio from up to 30 feet away. The onboard controls and built-in microphone not only manage music but take phone calls without ever having to touch the device. Even on a dead battery, the BlueVIBE DLX can be used with a 3.5mm AUX cable to provide unlimited hours of uninterrupted audio enjoyment.
The DLX offers a compact, travel-friendly folding design along with an EVA carrying case for storage when not in use. The headphones come complete with brushed aluminum panels, a padded adjustable headband, compact folding design, and soft, noise-isolating ear pads. Every pair of DLX headphones comes with a weather-resistant EVA carrying case with scratch-resistant interior and accessory cable storage. The headphones are great in-and-around the house as well as the great outdoors.
Like all Accessory Power products, the GOgroove BlueVIBE DLX comes with a three-year manufacturer's warranty that can be registered for at http://www.AccessoryPower.com.
For further information on the new GOgroove BlueVIBE DLX Bluetooth Headphones or Accessory Power, visit http://www.accessorypower.com/gogroove-bluevibe-dlx-hidef-bluetooth-headphones-with-folding-design-eva-carrying-case-black-p-2518.html.
Accessory Power is an American-based manufacturing and distribution company, with offices in Los Angeles, Hong Kong and China. Since 1980, Accessory Power has been dedicated to manufacturing quality consumer electronic accessories. An important distinction that divides our company is an unrelenting commitment to quality in each step of a product's life. Every Accessory Power product is backed by an industry-leading three-year warranty.