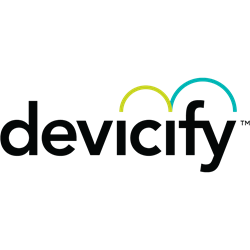 "The future of enterprise apps is social, mobile and connected," said Leyla Seka, vice president, AppExchange and Partner Operations, salesforce.com.
San Francisco (PRWEB) November 18, 2013
Intuitive Control Systems, LLC today announced it has launched Devicify on salesforce.com's AppExchange, empowering businesses to connect with customers, partners and employees in entirely new ways. Devicify radically simplifies the process of designing, deploying and managing web-enabled devices so that companies can focus on monetizing that connection and building better customer experiences. Emphasizing the company's philosophy that connectivity is a business process rather than a technology, Devicify delivers its turnkey device platform as a business application that fully integrates with the Salesforce Platform, providing a stable, reliable means to deeply integrate two-way interaction with your products into your entire business. The announcement was made today at salesforce.com's Dreamforce 2013 in San Francisco. Devicify will be in booth N1020 in the Dreamforce Expo.
Built on the Salesforce Platform, the world's leading cloud platform for social and mobile business apps, Devicify is immediately available for test drive and deployment on the AppExchange at http://www.appexchange.com.
Comments on the News

"Devicify is designed specifically to bridge the gap between device and business platforms by unifying the two," said Scott Johnson, Co-founder & CEO, Intuitive Control Systems. "It allows employees, customers, business systems and devices to simultaneously interact, creating new opportunities to improve efficiencies, increase revenues and build more meaningful customer relationships."
"The future of enterprise apps is social, mobile and connected," said Leyla Seka, vice president, AppExchange and Partner Operations, salesforce.com. "Partners such as Intuitive Control Systems are leveraging the power of the Salesforce Platform to give companies the tools they need to create deeper connections with customers and accelerate their transformation into customer companies."
"As the provider of Ascent ERP, one of the most popular manufacturing and ERP apps on the Salesforce Platform, we are seeing a rapid increase in the number of companies looking to add connectivity to their products," said Shaun McInerney, President, Precisio Business Solutions, Inc. "Devicify has both the ease and breadth of functionality to provide a great solution to these needs."
Product Key Features
Devicify delivers the device-optimized infrastructure needed for your connected product line with the ease of use our customers have come to expect. More importantly, Devicify offers numerous native Salesforce objects to embed your device design, deployment, management and interaction right alongside your other business processes, making it much simpler to enhance any other business process or application by employing data directly from your devices.
Dreamforce 2013 is the world's largest vendor technology conference, and expects more than 120,000 people to register to attend this year's 11th annual conference and experience the power of social and mobile cloud computing and connect with their customers in a whole new way. With more than 1,100 sessions and 350 cloud companies in the expo, attendees can participate in interactive sessions, hands-on training with cutting-edge technology, thousands of live demos and unparalleled networking. In addition, Dreamforce welcomes special guests Sheryl Sandberg, COO of Facebook; Marissa Mayer, President and CEO of Yahoo!; and Deepak Chopra, Founder of The Chopra Foundation. Dreamforce 2013 offers attendees everything they need to accelerate their customer company transformation in four days, under one roof.
Additional Information

About the AppExchange
The Salesforce AppExchange is the world's leading business apps marketplace. With more than 2,000 partner apps and 2 million customer installs it is the most comprehensive source of social and mobile cloud apps for business. The Salesforce Platform is the world's most trusted and comprehensive cloud platform for building social and mobile cloud apps, powering Salesforce CRM, and more than 3 million custom apps built by customers and partners. Apps built on the Salesforce Platform can be easily distributed and marketed through salesforce.com's AppExchange.
Salesforce, AppExchange and others are among the trademarks of salesforce.com, inc.