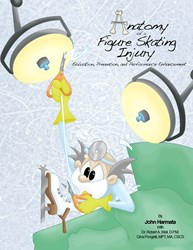 Downers Grove, IL (PRWEB) November 19, 2013
Ice skaters have been struggling with recurrent injuries for decades. Unlike other sports, figure skating has no governing body to supervise the development of guidelines for skating equipment, i.e. a skater's skates. After more than three decades of working with competitive figure skaters, John Harmata, aka Mr. Edge, has documented the relationship between proper boot fit, blade mounting, sharpening and the role each of them they can play in causing injuries to skaters. In his new book "Anatomy of a Figure Skating Injury," Harmata addresses the problems involving foot mechanics and explains why so many skaters are still prone to injuries and how to reduce or avoid them altogether.
Two staunch supporters of Harmata's research are Dr. Robert A. Weil, DPM; personal sports podiatrist to Olympic gold medalist Evan Lysacek; and, nationally renowned Performing Arts Medicine PT, Gina Pongetti.
Insurance companies should realize millions in savings within the coming years once Harmatas book has made its way across the globe. "My hope is that insurance companies will view this book as a new educational tool which they can use to help curb the growing cost of health care by putting a copy of it into the hands of their clients," says Harmata.
Anyone wishing to learn how to figure skate should first visit askmredge.com, a website where people can find answers to boot and blade questions, learn about using orthotics and increase their general knowledge of skating equipment. The book is available both in print and electronically at Amazon.com, Barnes & Noble, the iBookstore and other outlets.
About The Author
John Harmata is the president of Arena Sports & Consulting Services, Inc. dba Geppetto's Skate Shop. Harmata has worked in many different areas of the figure skating industry for more than three decades. During those years he has served as a consultant to Danco Sports, Inc., Harlick Boot Company, Paramount Skates, and was also asked to consult on a special project for the National Hockey League. Since 2000, his Ask Mr. Edge column has been featured in US Figure Skating's "SKATING" magazine; educating coaches, parents, skaters and skate technicians worldwide.
Harmata was born and raised in Chicago, Illinois and holds a degree in X-ray Technology. While attending numerous skating competitions and trade shows; including World's in 1987, it became apparent to him that something should and could be done to reduce the amount of injuries figure skaters are prone too. In the years that followed, he had perfected his fitting technique and began submitting suggestions to boot manufacturers on ways to improve the overall fit and comfort of their boots.
Contact:
John Harmata
Phone: 630-301-8154
Email: askmredge(at)aol(dot)com
Web: http://www.askmredge.com/