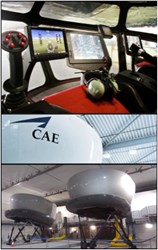 CAE is a highly respected and experienced provider of aviation training that meets all regulatory guidelines and requirements for aircrew training.
Los Angeles, CA (PRWEB) November 18, 2013
Aeroscraft Corporation, the innovator of a new variable-buoyancy cargo airship known as the Aeroscraft, today announced it has signed a memorandum of understanding with CAE, a global leader in simulation and training for civil and military aviation, to explore potential business relationships leading to the development and delivery of simulation-based training for Aeroscraft's new aircraft.
The two aviation leaders will now work closely to determine pilot, maintenance technician and loadmaster training program requirements, and explore the potential development and exclusive use of CAE simulators and global training facilities for providing the required instruction and evaluation of aircrews operating the fleet of new rigid-hulled cargo aircraft.
This potential partnership with CAE would allow Aeroscraft to:

Seamlessly develop the training program concept of operations (CONOPS) for Aeroscraft military and commercial customers;
Leverage CAE's simulation expertise and global training infrastructure to support its planned fleet of globally-distributed aircraft beginning deployment in FY 2016.
"As the global leader in flight simulation and aviation training services, including existing aviation training centres in approximately 30 countries, CAE is the ideal strategic partner for Aeros' long-term global training needs," exclaims Igor Pasternak, CEO of Aeros. "CAE is a highly respected and experienced provider of aviation training that meets all regulatory guidelines and requirements for aircrew training. By doing what they do so well, comprehensively and globally, CAE will strategically aid the Aeroscraft Corporation by freeing our focus and organizational resources for what we do best, which is accelerating fleet development for a new cargo airship aimed at achieving Federal Aviation Administration type certification in FY2016."
"We are pleased to sign this memorandum of understanding with Aeroscraft and begin exploring business relationships and training solutions for an innovative and exciting new class of aircraft that has the potential to reshape heavy-lift cargo transportation," said Ray Duquette, President and General Manager, CAE USA. "Our aim is to be the partner of choice for customers who want to leverage simulation-based training to enhance safety, efficiency and readiness. We look forward to working with Aeroscraft to define and develop a total training system program that plays a role in ensuring aircrews are well-prepared to safely and efficiently operate the Aeroscraft."