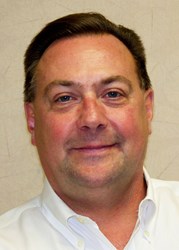 Pasadena, TX (PRWEB) November 19, 2013
Pasadena-based Control Solutions Inc. (CSI) has promoted Curtis Clark to Executive Vice President. The move enables CSI President Mark Boyd to work more closely with parent company Makhteshim-Agan Industries Ltd. (MAI) to capitalize on non-crop business opportunities worldwide.
Formerly CSI's Vice President of Sales & Marketing, Clark will continue to oversee those functions while adding day-to-day executive management responsibilities for all of the company's core business units, including:

professional pest control chemicals;
commercial turf and ornamental chemicals (Quali-Pro);
lawn and garden and animal health chemicals (Martin's); and
formulator sales.
"For the past nine years, Curtis' invigorating leadership and hands-on management has helped position our people, brands and products for unparalleled success," Boyd said.
"This move will free me up to work more closely with MAI to identify and fully capitalize on significant non-crop business opportunities worldwide," Boyd added.
Under Clark's direction, CSI has nearly tripled its annual revenues. The once-small specialty chemicals formulator has evolved into being part of a world-class basic chemical manufacturer that continuously invests, innovates and gives back to the myriad markets it serves.
"No matter the market, no matter the obstacles, we will continue to invest and innovate -- spurring exponential growth for CSI and our ever-expanding posse of end users," Clark added.
About Control Solutions Inc. (CSI)
Control Solutions began as a family owned business in 1958 and is built on to the commitment of serving the professional pest control and retail markets. CSI has added product lines for the Industrial, Lawn and Garden, Animal Health and Biocide markets, and is working with 80 + distributors serving those markets. Control Solutions maintains relationships with chemical manufacturers worldwide and maintains a ready supply of products in numerous distribution warehouses across the U.S.
Today our partnership with Makhteshim-Agan Industries multiplies Control Solutions' agility in continuously adding new products to meet the needs of professionals and homeowners. The one constant since the beginning in 1958 is our mission focus: to seek out and distribute effective and economical solutions for our customers.
http://www.controlsolutionsinc.com
About Makhteshim-Agan Industries Ltd. (MAI)
Makhteshim-Agan Industries Ltd. is a leading manufacturer and distributor worldwide of crop protection solutions and the largest off-patent player in the industry.
The Company supplies efficient solutions to farmers that assist them in combating disease and increasing yields. In 2012, the Company's revenues were over $2.83 billion, and it is ranked seventh in the world in the overall agro-chemicals industry. The Company is characterized by its know-how, high-level technological-chemical abilities, expertise in product registration, and observance of strict standards of environmental protection, stringent quality control and global marketing and distribution channels.
Makhteshim-Agan Group sells its crop protection products in over 120 countries and together with its strategically located global manufacturing and distribution facilities delivers simplicity in agriculture around the globe.