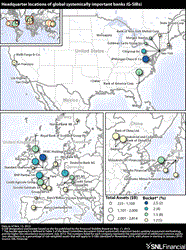 As you add more equity and have less debt in any company, then the cost of equity comes down because there's less risky business. So in terms of your valuation there's not much difference
(PRWEB) November 18, 2013
The U.S. again leads the world in terms of the number of global systemically important banks, but China's presence on the G-SIB list is growing.
On Nov. 11 the Financial Stability Board released its latest ranking of G-SIBs and disclosed the capital buffers each bank would be required to hold under Basel III. The list featured several changes from 2012, a sign that banks might be able to manage themselves into a less restrictive bucket.
Perhaps the most significant change was the addition of Industrial & Commercial Bank of China Ltd. The bank has been described as one of the more aggressive in China, with a significant footprint in Europe that could have contributed to its G-SIB designation. Further, the bank has more than US$160 billion in overseas assets and is the renminbi clearing bank for Singapore. The company has its sights set on a similar role in London, said Matthew Phan, an analyst with CreditSights.
Phan does not believe that ICBC would struggle to meet the loss absorbency requirement of 1.0%, which would be in addition to the 7% capital base to be required of all banks under Basel III. He said the China Banking Regulatory Commission's Basel III framework already requires a common equity Tier 1 ratio of 8.5%.
The latest list told a different story for the U.S., which again had eight banks deemed G-SIBs. Two of these dropped to a lower bucket in 2013: Bank of New York Mellon Corp. now faces a 1.0% additional loss absorbency requirement, compared to 1.5% in 2012. Citigroup Inc. dropped to the 2.0% bucket from the 2.5% one.
Analysts called the moves a mild positive for the U.S. banks, but they do not expect the lower designations to lead to significant operational changes. Morgan Stanley analysts said in a Nov. 12 note that, assuming the current bucket designations remain unchanged, Bank of America Corp. would be the largest beneficiary. Even though Bank of America's designation was unchanged from the 2012 release, its place in the 1.5% bucket was lower than market expectations. At the same time, the analysts noted that the market will expect Bank of America and Citi to be as well-capitalized as peer JPMorgan Chase & Co., which remained in the 2.5% bucket — the highest requirement for any bank on the list.
To read the full report, please visit http://www.snl.com/InteractiveX/Article.aspx?cdid=A-25929188-9008.