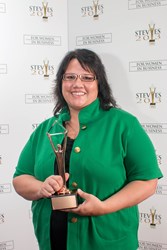 Pittsburgh, PA (PRWEB) November 18, 2013
AIReS' Director of Consulting Services Jennifer Murr, CRP, was honored with a Bronze Stevie® Award as Woman of the Year – Business Services at the 10th annual Stevie® Awards for Women in Business. More than 1,200 entries were submitted this year for consideration in more than 90 categories.
On her win, Ms. Murr said, "I'd like to thank the judges and everyone at the Stevie® Awards for this honor. I'm humbled to be included in this group of amazing women. I want to recognize the influence of my parents in my approach to work and my career; and I owe a tremendous amount of gratitude to my family David and Jacob, for their continuous love and support. That support extends to my AIReS family as well. I am lucky to work for such an amazing organization for more than 16 years, a company built on integrity and 'how much yes' we can give our customers. I am challenged and rewarded every day. I would like to specifically thank Joleen Lauffer, Jim Markle, Jeff Wangler and Bryan Putt, the AIReS Board members, and all of the AIReS family for the unwavering commitment to excellence that creates an environment built for success."
The Stevie Awards for Women in Business honor women executives, entrepreneurs, employees, and their companies – worldwide. The Stevie Awards have been hailed as the world's premier business awards.
Gold, Silver, and Bronze Stevie Award winners were announced during a gala event at the Marriott Marquis Hotel in New York on Friday, November 8. Nominated women executives and entrepreneurs from the U.S. and several other countries were in attendance.
Details about the Stevie Awards for Women in Business and the list of Finalists in all categories are available at http://www.StevieAwards.com/Women.