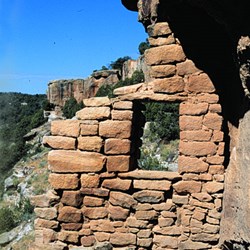 "Throughout the program, we'll talk about the dynamics of community formation, cooperation and conflict, and human-environment interactions in the region from A.D. 500 to 1300. We're expecting lively discussions!"—Dr. Susan Ryan, director of research.
Cortez, Colo. (PRWEB) November 20, 2013
The Crow Canyon Archaeological Center in Cortez, Colo., invites history and archaeology enthusiasts to join its scholars for an in-depth study of archaeological topics during a 2014 Archaeology Research Seminar—Communities Through Time: Migration, Cooperation, and Conflict.
In about A.D. 500, Pueblo Indian farmers began settling the central Mesa Verde region of the Southwest, planting the seeds of community organization and institutions that would become hallmarks of the later, classic Pueblo society as seen in the cliff dwellings of Mesa Verde National Park. During this Crow Canyon seminar, participants will explore the history of ancestral Pueblo Indian communities that formed in the region while enjoying a special chance to visit, and learn about, numerous sites excavated by Crow Canyon.
Crow Canyon scholars Dr. Susan Ryan and Grant Coffey will lead a tour of Crow Canyon's current excavation site, which dates to the Basketmaker III period (A.D. 500–750) and includes a great kiva—the only confirmed Basketmaker III great kiva in the central Mesa Verde region. They will also track the development of Pueblo communities through the subsequent Pueblo I, II, and III periods during site tours and a behind-the-scenes visit to a museum collection.
The seminar is open to the public with no prerequisites required. It runs April 13–19, 2014, and is based at the Crow Canyon campus in Cortez. To sign up or to receive more information, view the trip itinerary; call 1-800-422-8975, ext. 146; or e-mail programs(at)crowcanyon(dot)org.
About the Crow Canyon Archaeological Center
The not-for-profit Crow Canyon Archaeological Center, located near Cortez, Colo., conducts long-term, multidisciplinary research into the ancestral Pueblo Indians of the southwestern United States and provides experiential education programs for adults, teens, and children. The Center also collaborates with American Indians on a wide variety of initiatives of mutual interest, including research projects, education curricula, and language- and cultural-preservation programs.