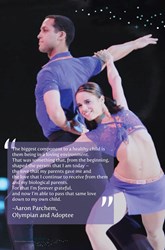 Adoption changed my life.
Overland Park, Kansas (PRWEB) November 20, 2013
In honor of National Adoption Month, American Adoptions recently met with Aaron Parchem, pairs figure skater in the 2006 Olympics in Torino, Italy.
Aaron was adopted as a baby and points to his adoption and his adoptive parents as reasons he was able to proudly represent his country in Torino.
"I would've never been in skating if it wasn't for my mom, especially," Aaron said. "She was so open to putting me in so many different things, allowing me to have all of these diverse experiences."
Aaron was adopted as a baby in August 1977 by Al and Georga Parchem, who had always wanted to start a family but were unable to biologically. Like many adopted children, Aaron was presented many opportunities he otherwise would have never had if it weren't for his adoption.
Aaron's dedication to figure skating throughout his life took him and his family all the way to the 2006 Olympics in Torino, where he and his partner Marcy Hinzmann placed 13th. However, Aaron and Marcy weren't disappointed – in fact, they felt quite the opposite.
"The achievement for us was qualifying for the Olympics. The whole Olympic experience to Marcy, myself and our families was to just enjoy the celebration and to be part of something that was vastly bigger than ourselves."
One decision made by a selfless couple in 1977 allowed a baby boy to achieve his dreams of making it to the Olympics. The question remains, would he still have made it to Torino if he wasn't placed for adoption?
"Adoption changed my life. I don't know if it was for the better or not, and that's simply because this is the only life that I know. But what I can tell you, and what I truly believe, is that I'm lucky to be adopted. The opportunities that have been afforded to me, the love that has been given to me and the family I now have all stem from a decision that I couldn't make – a decision I'm sure weighed heavily on my birth parents' hearts. However, for my story, there was a happy ending."
Please click the following to read the full version of Aaron's Parchem's Adoption Story.
American Adoptions is a full-licensed, not-for-profit domestic adoption agency that works across the country with adoptive couples and expectant women alike. Completing more than 300 domestic adoptions each year, American Adoptions is currently one of the largest domestic adoption agencies of its kind in the U.S.
Watch Aaron's story on YouTube.com. http://youtu.be/VrUSzjW_Evs
For more information, call us at 1-800-ADOPTION or email us at adoptions(at)americanadoptions(dot)com.