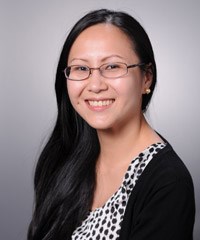 My goal as a periodontist is to provide the best care possible for my patients.
Collegeville, PA (PRWEB) November 18, 2013
Dr. David DiGiallorenzo welcomed a new periodontist, Dr. Hanh Bui, to the Lanap and Implant Center of Pennsylvania located in Collegeville and Williamsport this month. The focus on oral health solutions through holistic, and biologically compatible practices attracted Dr. Bui to the Center. Immediate tooth replacement utilizing titanium and zirconium implants, no cut - no sew Lanap single visit therapies for gum disease, painless hard and soft tissue reconstruction, permanent denture solutions, chronic pain and TMJ dental issues, attracts patients from all 50 states. The Center's integrative approach encompasses acupuncture and Chinese medicine, heavy metal testing and detox, reflexology, homeopathy, as well as massage and nutrition.
With a bachelor's degree in biochemistry, and a Doctor of Dental Medicine degree from the University of Pennsylvania, Dr. Bui practiced general dentistry for three years in the greater Philadelphia area. In 2010, she received specialty training in periodontology and oral implantology, and a master's degree in oral biology from the Temple University Kornberg School of Dentistry. While in residency, she was the winner of the esteemed Hiossen Caskit Contest, and achieved Diplomat status of the prestigious International Congress of Oral Implantologists.
"My goal as a periodontist is to provide the best care possible for my patients," says Dr. Bui. "The philosophy of the Lanap & Implant Center allows me to do just that with a patient-centered practice, where every detail is oriented to provide the most comfortable experience and predictable outcome possible. I am honored to be part of such a great team." Dr. Bui lives in Philadelphia with her husband and their daughter. Fluent in English and Vietnamese, Dr. Bui is accepting new patients at both the Collegeville and Williamsport locations.
David DiGiallorenzo, DMD, a renowned periodontist, clinician and consultant for periodontal therapy and dental implant care, founded the Lanap & Implant Center of Pennsylvania, located in Collegeville and Williamsport, PA. In the words of Dr. David, "Our patients will find Dr. Bui to be an extraordinarily compassionate practitioner with the highest degree of clinical expertise our patients and referring docs expect. She's an excellent addition to our multi-disciplinary practice." The Center collaborates with over 60 referring doctors' offices across the U.S., providing simple, comfortable, single-visit solutions to patients. Both offices treat patients nationwide and will work with a patient's existing dentist or medical doctor to provide a unique, multi-disciplinary approach to dental therapy.
For more information, or to make an appointment, call (610) 409-6064 in Collegeville, or 570-322-4741 in Williamsport, or visit http://www.perioimplants.us.