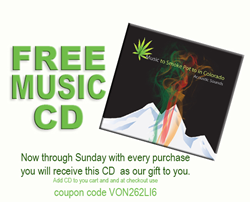 We believe that with thousands of purchases from our site this week that the CD has made a splash in the industry
Denver, Colorado (PRWEB) November 16, 2013
For just a few more days, anyone who visits http://www.cannajuanabuy.com and makes a purchase will receive a complimentary CD, 'Music To Smoke Pot To In Colorado'.
"We believe that with thousands of purchases from our site this week that the CD has made a splash in the industry. We are getting calls and emails letting us know how satisfied they are with both their purchase and their new CD," said Steve Bederman, CEO of The Marijuana Company (TMC).
"We are very happy that we can satisfy our new customers. Without them we wouldn't be succeeding right now as a company," said Brad Williams, Managing Director of TMC. With sales quickly soaring for the new e-commerce store, The Marijuana Company team is hoping to keep building upon the upward momentum.
Bederman said, "Now that we have seen success we want to build upon that. Next week we will be launching…Well, you will have to just wait to find out."
With only two more days left before the CD promotion is over, TMC urges all customers to check out their site for purchase options before the deal expires Sunday.
Visit http://www.CannaJuanaBuy.com and receive a Free CD with any purchase. Just use the coupon code VON262LI6 at checkout. Offer expires Sunday, November 17th at midnight.
About CannaJuanaBuy.com:
CannaJuanaBuy.com distributes ancillary products and services for the cannabis industry. Whether you're a grower, producer, dispensary owner or retail customer CannaJuanaBuy.com is a leading source for all things cannabis. Call us at 855-840-0862 or visit us online at http://www.CannaJuanaBuy.com