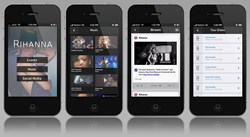 We just wanted to give loyal Rihanna fans the mobile experience they deserve. - Manick Bhan, CEO, Rukkus
New York, NY (PRWEB) November 18, 2013
Rukkus.com, the revolutionary new live entertainment search engine, has just released a brand new iPhone app completely dedicated to the pop star, Rihanna. The app gives fans an all-in-one experience for everything related to Rihanna, and paves the way for niche-based music technology.
Now, with the new Rihanna App, fans can browse all of her social media posts in one place, listen to her music library, and access concert tickets to all of her shows from anywhere in the world. Live music fans can rest assured that the Rukkus "ticket scoring engine" pinpoints the best deals on tickets.
Instead of using countless services, the app provides a new fan experience that's sure to become the norm in a culture that demands technology to be directly tailored to their needs. What's more, the app is completely free of charge and it's available to download at the Apple App Store. Download the Rihanna iPhone App.
"We just wanted to give loyal Rihanna fans the mobile experience they deserve," said Manick Bhan, CEO and founder of Rukkus. "It's the only place where the Rihanna Navy can find virtually everything they need to follow Rihanna: music, tickets to her shows, and all of her social media."
Rukkus is bringing the app to market in conjunction with some of the top Rihanna fan sites from around the world. Partners on this project involve many different web followings, including the "Rihanna Diva" fansite, Facebook fan pages "Rihanna: The Absolute Best" and "Rihanna France," and Twitter fan pages "@RihannaNavyEU," "@RihannaisSexCie," and "@RihannaDailyUK."
Rukkus.com is a tech start-up based in New York City that's beginning to create waves in the entertainment industry. It's the first live entertainment search engine and it offers a completely unique fan experience where "innovation" is the mantra. Rukkus is sure to be a name you'll be hearing more of, as they continue their meteoric rise.