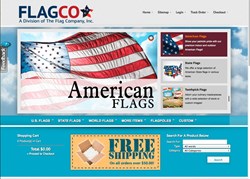 Sometimes the old is new again…a large format satisfies…a growing demand.
Atlanta, GA (PRWEB) November 19, 2013
The Flag Company, Inc. announces the revitalization of its large format screen printing division to accommodate a growing demand for custom, oversized, unusual, and one-of-a-kind print projects.
Whether the purpose is a corporate or sporting event, or any general large advertisement up to 12' x 18' or larger, The Flag Company, Inc. uses specialty inks, weather resistant materials and a complete inventory of advantageous items and materials that could be required to achieve the customer's goal. Each project is evaluated on an individual basis for job specifications, delivery, and feasibility.
The Flag Company, Inc. has printed on items as diverse as cold-air balloons, punching bags, store signage, and tablecloths on substrates just as equally diverse—vinyl, coropolast, polyester, and many others.
"Sometimes the old is new again," says Mike Lawrence, Vice President of The Flag Company, Inc., "and bringing back screen printing in a large format satisfies many customers with a growing demand for unusually large, and hard-to-print items."
For project evaluation, large and unusual print project requests can be submitted to The Flag Company, Inc. through the "Custom" menu choice on the Flagco website. With The Flag Company, Inc.'s large format screen printing service, companies can think big—really big.
About The Flag Company, Inc.
As the largest online flagpole supplier, The Flag Company, Inc. offers a complete range of flags and flag-related products in addition to its line of flagpoles and signature Flagpole Beacon. Custom screen-printing and digital printing are available for special events, corporate logos, etc. Stock merchandise includes U.S., state, international, and military flags, and all types of accessories such as bunting, memorial cases, pennants, and more. The Flag Company, Inc. is the nation's largest producer of message flags, offering over 300 different messages used by realtors, restaurants, car dealerships, and any other kind of company imaginable. Toothpick flags—both stock and custom-made to order— are also available. The complete product line can be viewed at http://www.flagco.com. "Feel Good Light-Ups," a decorative light lens for fluorescent light fixtures, are now so popular there is a dedicated website at http://www.feelgoodlightups.com. Flagpoles and Flagpole Beacons are featured at http://www.flagpolewarehouse.com. Toothpickflag.com has a wide selection of toothpick flags for any occasion, party or corporate event, with a custom department for that one-of-a-kind special design.