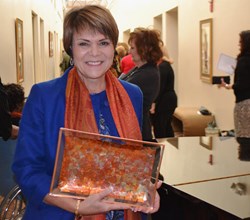 'Lynn invests countless hours managing important public works project, and volunteers her time, talent and insight to create opportunities for women.' - Mark B. Skellenger, P.E., KS Associates Vice President
Elyria, Ohio (PRWEB) November 20, 2013
Lynn S. Miggins, P.E., President of KS Associates, Inc., was among an elite group of women recognized by the Elyria, Ohio, YWCA with the 2013 Women of Achievement Award. The award was established to honor women who have made substantial inroads toward eliminating racism and empowering women. On Tuesday, November 12, 2013, the organization held a special luncheon at Avon Oaks Country Club in Avon, Ohio, to honor 16 nominees and bestow this special award to three exemplary leaders, among them Miggins.
Standing out in the crowd is not new to Miggins. She was one of three females among the 200 engineering students in her class at the University of Dayton. Her career includes being the first female to have worked in the engineering department at the City of Elyria.
Since founding KS Associates, Miggins has propelled her career and her firm to the forefront of the Northeast Ohio civil engineering industry, despite the challenges associated with a historically male-dominated environment. Approximately 30 percent of KS employees are female, and women hold key technical and managerial positions at KS.
Miggins was nominated by her partner, Mark B. Skellenger, P.E., Vice President and Co-Owner of KS Associates. Skellenger has worked side-by-side with Miggins for more than 26 years, since founding the successful civil engineering and surveying firm in 1987. "Lynn invests countless hours managing important public works projects that have beneficial impacts to local communities. She is also driven in volunteering her time, talent and insight to propel initiatives aimed at growing the local economy and creating opportunities for women pursuing technical careers in engineering."
Under Miggins' leadership, KS Associates has built an impressive portfolio of clients including the Greater Cleveland Regional Transit Authority (GCRTA), Cleveland-Cuyahoga County Port Authority, Ohio Department of Transportation (ODOT), the Ohio Turnpike and Infrastructure Commission, Northeast Ohio Regional Sewer District (NEORSD) and Cleveland Airport Systems. Miggins has served as City Engineer for the City of Vermilion since 2010, a position she held previously from 1988 to 1998.
About KS Associates, Inc.:
KS Associates is a civil engineering and land surveying firm founded in 1987. The firm provides planning, design, bidding and construction phase services related to public infrastructure projects in the areas of transportation, potable water, waste water and storm water; site development engineering services for institutional, commercial and residential uses; coastal engineering services; land surveying and mapping services; and 3D laser scanning services. KS Associates is a Disadvantaged Business Enterprise (DBE). For more information visit: http://www.ksassociates.com.