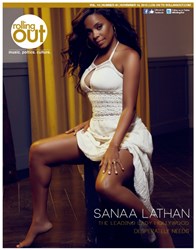 We had so much fun … we had a blast.
Atlanta, GA (PRWEB) November 16, 2013
Actress Sanaa Lathan's magnetism was in full effect as she cooed for the camera of photographer DeWayne Rogers, while simultaneously holding court for a delighted throng of bystanders. And she did it all with an infectious smile.
'The Best Man Holiday' hits theaters on Nov. 15th and it was refreshing to get to know that other side of Lathan during her exclusive interview and photo shoot with rolling out.
"I play Robin, who is now married to Taye Diggs' character, Harper, and we have been married for over 10 years now. She's a chef at a very fabulous restaurant in Harlem, and she's also nine months pregnant," she says about her role in the highly anticipated film.
Believe it or not, it's not all work for the beautiful actress and her co-stars who have spent 15 years apart, "We had so much fun … I've done other movies with Taye. Regina Hall and I are best friends. Nia Long and I are great friends, so we just had a blast to the point where I think the director would occasionally get mad, because we were having too much fun in between takes."
Visit rollingout.com to read the interview in its entirety. Be sure to check out this and other exclusive photo shoots and video footage with celebrity photographer DeWayne Rogers.
About rolling out Magazine:
Rolling out, the nation's largest free urban weekly, is a digital and print magazine that focuses on the black experience in response to entertainment, politics, fashion, culture, sports and lifestyle points of interest. Headquartered in Atlanta, rolling out is positioned as the voice for the African American experience, using its newspaper as a platform in the marketplace to express urgency for education reform, and to document entrepreneurial endeavors and other relevant issues in the Diaspora. For information on rolling out, please log on to rollingout.com.