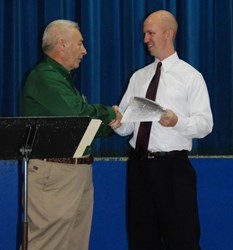 Arlington, TX (PRWEB) November 15, 2013
The Mensa Education & Research Foundation has named John Otterstedt of Ridgewood, N.J., the recipient of the 2013 Distinguished Teacher Award. He is a third-grade teacher at Hawes Elementary in Ridgewood, N.J. Nominated by a fellow teacher, Michael C. Feeney.
Otterstedt was described as "a dedicated and zealous educator who demanded — and got — the very best from his students." Otterstedt's approach is anything but run-of-the-mill. He's known for subtly "tricking" his most-reluctant third-grade students into better expressing themselves through associative writing prompts, and he's even videotaped lessons for a student unable to attend classes due to health issues. Students who struggle in his class are given "immediate and extensive attention," and communication between this teacher and parents is paramount. "Mr. Otterstedt's commitment and dedication to his students is an example of what makes him a great teacher. We are honored to present him the Distinguished Teacher Award," said Mensa Foundation President Dave Remine.
The Mensa Distinguished Teacher Award recognizes a teacher, professor or instructor at any educational level who has had an especially positive influence on the education or life of a Mensa member. To find out more about the Mensa Foundation Awards, visit mensafoundation.org/awards.
The Mensa Education & Research Foundation has been a strong voice in supporting intelligence. The Foundation fosters the best and brightest through scholarships and awards, and encourages research and intellectual inquiry through the Mensa Research Journal and various Colloquiums. Governed by a volunteer Board of Trustees, the Mensa Foundation is a 501c(3) organization and is funded by support from American Mensa, Mensa members and other charitable donations. To learn about the Foundation, visit http://www.mensafoundation.org.
For More Information:
John McGill, 817-607-0060 ext. 5541
johnm(at)americanmensa(dot)org
Victoria Liguez, 817-607-0060 ext. 5542
victorial(at)americanmensa(dot)org