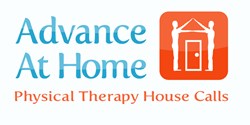 In-home physical therapy is a great option that is available to you or a loved one today!
Nassau County, NY (PRWEB) November 16, 2013
Advance at Home Physical Therapy is proud to announce that Sajan Johnson PT, MS, GCS has received training and earned the professional designation of Certified Geriatric Clinical Specialist. This board-certification is granted by the American Physical Therapy Association (APTA) American Board of Physical Therapy Specialists (ABPTS) and involves demanding application and examination processes and provides assurance to patients and the medical community of Johnson's skills and abilities.
Sajan Johnson is the founder and president of Advance at Home Physical Therapy, a rehabilitative private practice providing quality home based therapy in Long Island and Queens.
This designation, held by less than 1% of all physical therapists, recognizes advanced clinical knowledge, experience, and skills in the practice of geriatric physical therapy. Sajan Johnson is also an active member of the American Physical Therapy Association (APTA), Geriatrics Section and the New York Physical Therapy Association (NYPTA).
Sajan Johnson attended Touro College (Bay Shore) and graduated in 2002 with his Bachelors in Biology and Masters in Physical Therapy.
"We strive to improve quality of life through delivery of compassionate care and uncompromising service," states Johnson regarding his growing house calls practice.
About Advance at Home Physical Therapy:
Founded in 2010, Advance at Home PT was developed to bring individualized outpatient therapy services, in Long Island and Queens, directly to the patient's home to allow continued care. House calls allow the Advance at Home team of therapists to provide a personalized plan of care that ensures maximum safety and compliance. With this approach, the Advance at Home team brings the service directly to the patient in their natural environment. Treatments focus on returning an individual to their prior level of function and gaining their maximum level of independence with professional evidence based approach.
For more information visit http://www.advanceathomept.com or call 516-399-0051
Media Contact: Sheena Samu - Sheenasamu93(at)gmail(dot)com
###