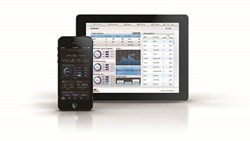 Atlatl SRP software is the equivalent of a sales rep taking the engineering, quoting and manufacturing departments with him or her...
Chicago, Ill. (PRWEB) November 19, 2013
Atlatl Software (booth #s4905), a Six Axis LLC Company and innovator of the software category sales resource planning (SRP), today announced the release of Atlatl SRP, the world's first 3D virtualized enterprise SRP software. The SaaS application enables a lean approach to selling and manufacturing complex configurable products in industries such as building products, machine tools, material handling, and industrial equipment. Integrated with back end manufacturing resource planning (MRP) and enterprise resource planning (ERP) systems, Atlatl software enables direct sales teams, manufacturers' reps and channel partners—using a patented 3D virtualized interface—to configure the product, issue a quote and close the sale in as little as one visit.
"Atlatl SRP software overcomes one of the biggest obstacles in selling complex configurable products—the lengthy consult-configure-quote process and subsequent order fulfillment processes," said Rob Honeycutt, CEO Atlatl Software. "Atlatl SRP software is the equivalent of a sales rep taking the engineering, quoting and manufacturing departments with him or her to a sales call. We've built a sophisticated level of functionality and front- and back-end integration into the software, overlaying an engaging and intuitive 3D virtualized interface. The software is easy to use and produces accurate engineering drawings and bills of material, significantly reducing the sales and order fulfillment processes," said Honeycutt.
The Atlatl SRP software 3D virtualized interface boosts adoption and sales
On the surface, Ataltl SRP software looks and operates like a gaming app such as Minecraft. "We designed the software using the latest human machine interface and virtualization technologies with the goal of reducing complexity and increasing adoption and engagement by reps—this is a powerful application they not only enjoy using, but are eager to use because it helps them win more business profitably," said Honeycutt.
The software is anything but a game. Behind the interface is a sophisticated pre-approved matrix of engineering configurations, rules and bills of material. Sales reps can collaborate on-site with customers to literally design scalable 3D renderings of the end product simply by swiping or stretching images on a tablet or by using a mouse on a laptop. When approved, these designs are instantly output to engineering drawings and parts masters, giving downstream manufacturing precise real-time parts forecasts and seamless, accurate order entry. The software also includes full motion graphics for configurations that involve moving parts such as gates.
"The simulations are so life-like that it's easy for customers to see exactly how the product will function in their environment, which gives the customer greater confidence in the manufacturer and often results in an order commitment on the spot," said Honeycutt.
Making the business case for sales resource planning (SRP)
Technology is accelerating the pace of change in business and is creating new opportunity. Virtualization, convergence of digital and physical worlds, mobility and algorithms are just some of the technological advances leading business advisors and consultancies are projecting to profoundly impact business, from R&D and product development to go-to-market strategies and manufacturing.
Atlatl SRP software is leveraging these technological trends to facilitate a lean front-end selling process, resulting in more profitable sales. On the back-end, Atlatl SRP improves accuracy of parts forecasts and reduces duplicate and error-ridden order entry processes. As a result, the software speeds order fulfillment and practically eliminates returns.
One manufacturer of configurable industrial parts that used Atlatl SRP software saw returns of just 22 parts out of more than 13,400 shipments or 0.16 percent in one year. "That's an amazing rate given the scale of the software deployment to more that 120 new distributors and over 600 new users," said Honeycutt.
How Atlatl differs from customer relationship management (CRM) and sales force automation (SFA) software
Atlatl software fills a gap that currently exists between CRM/SFA software and back-end manufacturing processes relative to user interface and sales rep adoption. "We found that top performing sales reps were the worst CRM/SFA users because current solutions require a lot of clerical work—typing into little boxes, which sales reps hate. And they also didn't see an immediate benefit of using the tool. Now, with Atlatl SRP, our best performing sales reps are also our most avid users—sales are up and so are profits."
The Atlatl SRP benefits are immediately apparent to sales reps and customers. It's a fun, easy and approachable tool enabling reps to articulate the customer's vision in an easy-to-understand 3D rendering, unlike current 2D drawings; and customers know exactly what they're getting and the price. An iterative process that once took as long as six weeks to complete from initial sales visit to final approved quote, now literally takes a few minutes.
Because of the high usage rate among sales reps relative to quotes, back end parts forecasting and manufacturing planning are more accurate. "Instead of basing forecasts on backward-looking historical trends, which aren't a good indicator of future performance, now production planners work from real-time forward-looking data, drastically reducing safety stock levels while fulfilling orders faster," said Honeycutt. Atlatl SRP brings lean principles to the front-end sales process and better supports lean manufacturing.
For more information, download the Atlatl SRP Software Guide, The Ultimate Sales Tool. To learn more about Atlatl SRP visit the Atlatl Software website or call (855) 762-8528.
About Atlatl Software
Atlatl Software is a Six Axis LLC company based in Charleston, SC. Founded in 2012, the company's focus, like the eponymous ancient tool, is on creating incredible leverage. Atlatl is a tech company that puts people first by framing technology from a human perspective. Built for sales and manufacturing by sales and manufacturing, Atlatl Software uses the latest in human interface design and mobile technologies to deliver information and efficiency to sales and manufacturing professionals, helping them sell and produce more products in less time.