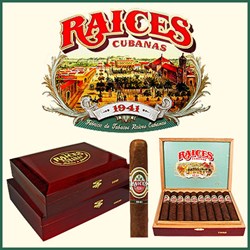 The blend used to create this cigar is based off of some of the greatest hit cigars that have come out of that factory
Miami, FL (PRWEB) November 18, 2013
The Alec Bradley Raices Cubanas 1941 Cigars are now available and in stock at Gotham Cigars. Gotham sells the Alec Bradley Raices Cubanas at an 11% cheaper price than the suggested retail selling price, which is the lowest discounted price allowed by the manufacturer. The Alec Bradley Raices Cubanas cigar box is available for $159.95-$177.95 per box, containing 20 sticks each which is only $7.99-$8.89 per stick. At Gotham Cigars the Alec Bradley Raices Cubanas Cigars are available to premium cigar smokers for more than $1 less per stick compared to other retailers.
The Alec Bradley Raices Cubanas 1941 Cigar was announced at the IPCPR 2013 trade show and was set to be delivered to retailers in November. This premium cigar is hand crafted at the Raices Cubanas factory in Danli, Honduras and is distributed by Alec Bradley. The Raices Factory is where the top rated Alec Bradley cigars Prensado and Tempus are manufactured, so they are no stranger to creating the perfect blends loved by many cigar connoisseurs. The blend used to create this cigar is based off of some of the greatest hit cigars that have come out of that factory. The Raices Cubanas 1941 delivers a smooth smoke all the way through and it creates the perfect amount of creamy smoke on the exhale. The Raices Cubanas 1941 is a medium bodied cigar that can be a great bold choice for the morning cigar or the perfect after lunch cigar.
The Alec Bradley Raices Cubanas is available in four different sizes; Gordo which is 6x60; the Toro which is 6x54; the Robusto which is 5 ¼ x 52 and the Churchill which is 7x49. The Alec Bradley Raices Cubanas is handcrafted with a Honduran wrapper, a Nicaraguan binder and a mix of Nicaraguan and Honduran filler tobaccos. Alec Bradley and the Raices Factory have always had a great relationship, so it is clear why they would work together to bring cigar lovers a great new blend.
Gotham Cigars offers customers one of the country's largest and freshest selections of premium cigars, Machine Made Cigars, Filtered Cigars and Humidors. Gotham Cigars has received five-star ratings by the most trusted online comparison websites for its huge selection, fast shipping and great customer service; Gotham Cigars has become a favored destination for buying cigars and accessories online in the US. All of their products have been thoroughly inspected by their manufacturers prior to arriving at the facility to ensure the highest quality for their customers. To learn more, visit http://www.gothamcigars.com.