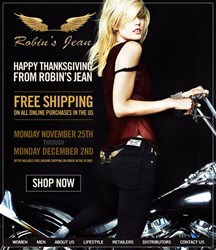 Los Angeles, California (PRWEB) November 25, 2013
The company will show their gratitude to their devoted customers by offering free shipping on all online purchases in the US from Monday, November 25 to Monday, December 2, 2013. This will allow shoppers the opportunity to get a jump start on their holiday shopping and get their favorite styles ahead of time at http://www.robinsjean.com.
Robin's Jean feature a unique collection of jeans, jackets, tops, hats and belts for men and women. Represented by the gold wings logo, Robin's Jean captures Robin's childhood dream of freedom and flight. Robin arrived in Los Angeles in 1996. His skills combined with talent, caught the eye of the best denim companies in LA. In 2005, he decided to incorporate his passions for designing clothes, riding motorcycles and vintage cars with his fascination of the American Indians and the spirit that embodied warriors and their fight for freedom to create his own line, Robin's Jean. The are currently three free standing Robin's Jean retail store in the US which are Beverly Hills, New York and Laguna Beach as well as the first international store in Ibiza, Spain.