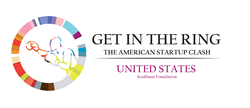 KANSAS CITY, Mo. (PRWEB) November 18, 2013
Americans nationwide can cast their votes for their favorite startup tonight when they watch the live stream of eight U.S. entrepreneurs going head-to-head in the final round of "Get in the Ring: The American Startup Clash." The Ewing Marion Kauffman Foundation is hosting the first-ever U.S. competition and will live stream the competition for the title of America's most promising entrepreneur at 8 p.m. EST tonight at http://www.kauffman.org/GITR.
Kicking off Global Entrepreneurship Week festivities in Kansas City, the eight finalists will enter the ring and deliver their best and final pitches to an esteemed panel of judges: global fashion mogul Marc Ecko; internationally recognized entrepreneur and innovator Jeff Hoffman; serial entrepreneur, investor and author Lisa Gansky; consumer brand "turnaround" CEO Matthew Rubel; and broadcast and digital media guru Denmark West.
A cash prize of $10,000 will be awarded to the top U.S. finisher, and $5,000 will go to the runner-up. Online viewers of the competition will be able to vote for the "audience favorite" via a special URL to be announced during the event.
In addition to the cash prize, the startup named U.S. champion will leave Kansas City the very next day to travel expense-paid to the Nov. 22 Get in the Ring global finals in Rotterdam, the Netherlands. There, he or she will compete with seven other international finalists, selected from 30 participating nations, for a chance to secure angel investment from a potential pool of €1,000,000, or approximately $1.3 million.
The finalists were selected from an initial field of 283 applicants from around the country. Hailing from seven states and representing a variety of industries, they are:

Drazil Foods, Edina, Minn.
EyeVerify, Kansas City, Kan.
MANA Nutrition, Matthews, N.C.
POPVOX, Redwood City, Calif.
REPP, Cincinnati
St. Teresa Medical, Inc., Maple Grove, Minn.
Travefy, Lincoln, Neb.
weeSpring, New York
Get in the Ring was founded in 2009 by the Erasmus Centre for Entrepreneurship in the Netherlands to bring the world's most promising entrepreneurs together with those who can help them succeed and to inspire others to start their entrepreneurial journeys. The international finals are held each November during Global Entrepreneurship Week.
Sprint is the U.S. national sponsor of the inaugural U.S. competition. Other sponsors include leading online tech news publication VentureBeat, boxing equipment company Combat Brands/Ringside and Kansas City PBS television station KCPT.
Full details about Get in the Ring: The American Startup Clash and finalists are available at http://www.kauffman.org/GITR. Fans can follow the conversation on Twitter at #GITRUSA.
About the Kauffman Foundation
The Ewing Marion Kauffman Foundation is a private, nonpartisan foundation that aims to foster economic independence by advancing educational achievement and entrepreneurial success. Founded by late entrepreneur and philanthropist Ewing Marion Kauffman, the Foundation is based in Kansas City, Mo., and has approximately $2 billion in assets. For more information, visit http://www.kauffman.org, and follow the Foundation on twitter.com/kauffmanfdn and facebook.com/kauffmanfdn.
About Get in the Ring
For more information about the international competition of Get in the Ring, visit http://www.gitr.nl. Also follow Get in the Ring on Twitter @gitr_gew and Facebook/getinthering.gew.