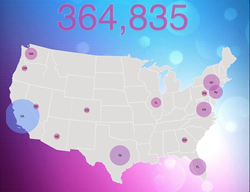 With this new tool set media companies can rapidly build new, visually compelling experiences for live TV programming, Social TV and digital storytelling."- Rahul Aggarwal, CEO and Co-Founder of Arktan
Redwood City, CA (PRWEB) November 18, 2013
Arktan announced today that it's partnering with Facebook around Facebook's Keyword Insights API and the Public Feed API with Arktan receiving access to both APIs. The collaboration enables groundbreaking integration of Facebook insights and data with live TV programming, and accompanying second-screen social experiences on the web and mobile apps. Arktan's media partners can now showcase visualizations powered by the new Facebook data with digital properties using Arktan's newly launched Facebook Insights Dashboard.
The new Facebook Public Feed API provides a real-time firehose of all public posts on Facebook. Only public posts (from Pages and Profiles of those with 'Follow' turned on) are available with this API. Meanwhile, the new Keyword Insights API aggregates the total number of posts on Facebook that mention a specific term in a given time frame. It can also display anonymous, aggregated results that include all Facebook posts, whether public or private, based on gender, age and location.
Arktan Facebook Insights Dashboard is available to media partners as part of Arktan's industry-leading SocialTrends product. The Dashboard, powered by the Keyword Insights API, allows media companies to create a wide range of visualizations, including heat map, leader board, age distribution, and gender distribution visualizations. These visualizations can be configured on the fly, and displayed on-air during live TV programming, and to enhance accompanying second-screen social experiences on the web and mobile apps.
For example, a live show or a sports game on TV can now easily include a real-time leader board visualization of the top topics or players being discussed on Facebook during the live programming, a heat map of where any particular topic is getting the most buzz, and whether the given show is more popular among males or females, along with an age group distribution.
"We are very pleased to work with Facebook to provide media companies with a comprehensive tool set to leverage the power of the new Facebook APIs along with the existing Facebook Graph API and Instagram APIs. With this new tool set media companies can rapidly build new, visually compelling experiences for live TV programming, Social TV and digital storytelling", said Rahul Aggarwal, Arktan's CEO and Co-Founder.
For more information, please visit http://arktan.com/facebook.
About Arktan, Inc.
Arktan provides innovative real-time social curation and conversation products for leading media, entertainment, TV, sports, and consumer brands.
Brands are using Arktan products to create engaging, interactive user experiences. Arktan products extend curated real-time social content and conversation from across the social web and blogs onto brands' sites and mobile apps, and enable brands to display real-time Facebook posts and tweets on-air during live TV programming.
Arktan is powering real-time social experiences for a growing number of leading brands, including Warner Music, Sony Music, Universal Music Group, TNT, TBS, ABC, CBS, NBC, Univision, WWE, The Washington Post, Bell Media, Toronto Star, and Sonos.
Media Contact:
Sirpa Aggarwal
Arktan, Inc.
sirpa(at)arktan(dot)com
+1.415.216.7969