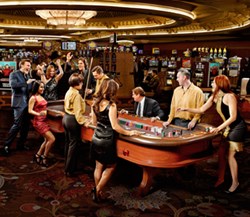 This activity results in lost profits for the casinos....
Las Vegas, Nevada (PRWEB) November 18, 2013
Today, eConnect, Inc. reported that their casino clients have uncovered a multitude of table rating scams with their Casino Connect™ system. For decades casino operators have whispered about the vulnerabilities they have realized with player ratings and incentive programs, but until now there wasn't much that protected them from these problems. Ratings scams are pretty basic in nature and can be avoided, but they are hard to detect without a tool like Casino Connect™. For instance, a table games player is rated based on their cash buy-in, average bet amount and length of time they play the game, however when a pit employee rates friends and family members sometimes they will give them better ratings than deserved or even rate them when they aren't there. The end result is more cash, awards and comps given to these players who haven't really earned it. This activity results in lost profits for the casino as well as rewards the wrong players.
eConnects Ratings Module has been installed in gaming properties throughout the world and has found many scams that the operators have been living with for sometime. The system interfaces with all major gaming system to capture the employees inputting the ratings while simultaneously meshing the data with surveillance video to find any fraud and human errors. The eConnect Ratings system is priced reasonably and offers a dramatic ROI along with the ability for operators to secure these assets for as long as they are in business.
eConnect will be showcasing this new product at the Table Games Conference at the Paris Casino in Las Vegas this week. http://www.tablegamesconf.com
Ratings Product Demo: http://www.econnectglobal.com/media/ratings.html
The system interfaces to Bally, IGT, Konami & Aristocrat
About eConnect™
eConnect is a software company in the security industry which provides financial transactional analysis with visual verification. This is accomplished by synchronizing transactional data from point-of-sale (POS), casino systems and games to digital video surveillance, producing the best fraud deterrence tool in the industry. The software tool also increases the effectiveness of employee productivity, allowing managers to easily identify common employee errors. The software provides a dramatic return on investment usually within 3 to 6 months.