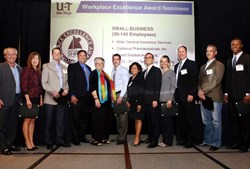 Our employees take pride in what they do and are a critical component of our success
San Diego, CA (PRWEB) November 17, 2013
Client Solution Architects LLC (CSA), a federal contracting firm, is proud to announce they have been awarded the Workplace Excellence Medallion Award by the San Diego Society for Human Resource Management (SD SHRM) for the fifth consecutive year.
CSA was awarded this honor at the Annual Workplace Excellence Awards dinner, "The Oscars of HR," at the Hilton La Jolla in San Diego. SD SHRM has awarded this honor for 13 years, of which the past 5-years CSA has received recognition. Thousands of companies have been nominated over the years, but only 271 were worthy of being judged.
"Each year we look forward to participating in this San Diego Human Resource event to not only recognize the great things we are doing at CSA, but to acknowledge and support the valuable impact our employees bring to our clients. Our employees take pride in what they do and are a critical component of our success," said Brenda Johnson, CSA's Human Resource Director. "We are honored to receive this recognition."
This year, SD SHRM managed the awards program a little differently by partnering with UT-San Diego's Top Workplaces and Workplace Dynamics. To view the listing of all applicants, please visit SD SHRM's website.
About CSA:
CSA is a professional services firm providing strategic guidance and operational performance solutions to government and commercial clients. CSA helps clients achieve their goals by enhancing organizational performance and maximizing return on investments. CSA helps clients plan and execute processes associated with Project and Portfolio Management, Acquisition and Program Management, Contracts Management, Business and Financial Management, Logistics and Supply Chain Optimization and Business Improvement and Analytic Services. CSA delivers services by combining deep process expertise with strong program management disciplines, analytics and a focus on performance results.