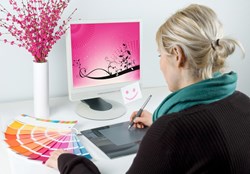 Burbank, CA (PRWEB) December 05, 2013
USA Business Insurance announces the expansion of customized business insurance packages with a brand new insurance program tailored for graphic designers: professional liability insurance for those practicing that profession. Without a graphics designer's professional liability insurance policy, the designer would have to pay for any legal defense. However, a professional liability policy will cover the entire legal defense in addition to any judgment that may arise from a lawsuit and/or any errors or omissions that occurred.
While graphic design may not appear to be a job that could generate many lawsuits against its practitioners, it can and does occur.
For example, a customer might request that a designer create an entire branding image for their new company. The designer does so and the client seems happy with the results. However, a few months later the design company finds themselves dealing with a lawsuit against their business claiming that the artwork used for their logo was not properly licensed and has harmed the client's firm financially.
"The insurance risks of a graphic designer are a fact of life and designers need to plan for it. In fact, they could lose their business or worse because they didn't have the foresight to get insurance," says USA Business Insurance.
This program is designed to meet the needs of sophisticated, technically savvy graphic designers. These policies are specially priced to be affordable while also providing policy holders with the peace of mind that potential liability issues are covered.
In addition to professional liability, graphic designers may also increase protection levels to cover against asset losses due to accidents, natural disasters, vandalism, fires and more. All this protects against the high costs associated with issues that can lead to financially catastrophic events for small business owners.
About USA Business Insurance
USA Business Insurance provides a comprehensive suite of liability, professional liability and other programs specifically tailored for small business insurance portfolios. The company offers great rates, discounts and flexible payment plans.
For more information, visit http://www.businessinsuranceusa.com.