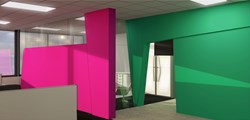 Our mandate is to maximize real estate savings while enabling greater resource productivity within an environment that promotes stronger collaboration and well-being." - President Marcia Mayhew
Toronto, Ontario (PRWEB) November 20, 2013
Mayhew will officially relocate its headquarters in late December to better align with its growing professional advocacy for more flexible and collaborative workspace designs.
With the move, the Canadian-based premium interior design and workplace consultancy firm will effectively reduce its real estate footprint by more than 50% to better reflect its more mobile workforce and drive optimization priorities aimed at achieving greater profitability.
Located at 100 Via Renzo Drive, Suite 300, the new headquarters illustrates how Mayhew applies design and workspace best-in-class principles. Factors such as cost savings, the expansion of shared work areas and flexible touchdown spaces have driven the 21st century office workspace design. The space also features award-winning products from Steelcase that enable technology and boost collaborative engagement.
"The proliferation of technology in the workplace has untethered a growing segment of office workers, resulting in greater flexibility and declining requirements for dedicated seats," said President Marcia Mayhew. "Our mandate is to maximize real estate savings while enabling greater resource productivity within an environment that promotes stronger collaboration and well-being. We have successfully implemented this strategy helping enterprises across the province realize their business objectives and now it is our turn to do likewise," she said.
Along with the office relocation, Mayhew will also establish a separate distribution centre in Richmond Hill aimed at driving operational efficiencies by better supporting its other geographical locations.
About Mayhew
Mayhew - http://www.mayhew.ca specializes in providing innovative workspace design solutions and products. Having designed over 20 million square feet of workspace in the last quarter century, Mayhew distinguishes itself with its dedicated team of experts, including workspace strategists, interior designers, ergonomists, project managers, and facility planners and managers. Mayhew has 150 employees and is headquartered in Toronto, Ontario with offices in Kitchener, and Windsor.