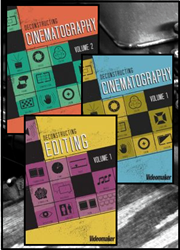 The Critiques Series allows you to experience Hollywood filmmakers decisions through thoughtful critique.
Chico, CA (PRWEB) November 18, 2013
Ever wonder how the Hollywood pros do it? Videomaker's Critiques Series Complete Set is a 3-disc DVD set that breaks down iconic scenes in cinema history to show you how to shoot and edit great video. The new DVD set provides thoughtful critique as the Videomaker editors analyze some of the best movies ever made.
This new DVD set features two discs devoted to cinematography and the art of capturing moving images. The method of critique means that you learn how the masters applied the art of cinematography to their own work. It's loaded with analysis of shot composition, camera movement, and much more. The cinematography discs focus on films like Citizen Kane, Blade Runner, Saving Private Ryan, and other important films. Find out why these films are so highly revered through thought-provoking criticism.
The third disc in the set focuses on the principles of editing video. By deconstructing scenes from Star Wars, Inception, The Godfather, and others, this DVD explains how to edit like the pros. Learn how to tell a story with effective editing techniques and discover more tricks from the masters of the trade. This DVD set should be treated as a guide to any aspiring filmmaker looking to shoot and edit better video.
Speaking with Tyler Kohfeld, Marketing Coordinator at Videomaker, he stated that "the Critiques Series allows you to experience Hollywood filmmakers' decisions through thoughtful critique and learn from their best work. We felt this method of learning provides an unparalleled experience that's very enjoyable and insightful."
If interested in this Videomaker DVD, or any other informative title, including other shooting and editing topics, be sure to check the Videomaker website often. As Kohfeld added, "this is just one of several DVD titles on how to create better video."