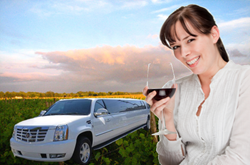 Los Angeles, CA (PRWEB) November 16, 2013
ALS Limo & Car Services is currently offering a new promotion targeted to clients interested in a Southern California wine tour package. The company offers some of the most popular wine tours in the region and this new promotion arrives at a perfect time of year to take a trip to wine country. A company spokesperson announced the new promotion and said, "Our wine tour packages are always booked and this is our way of recognizing that our clients want to continue to receive the best pricing on a trip into some of the most beautiful wine producing areas of the state. With this promotion and a luxury vehicle all the customer has to do is sit back, relax and prepare to experience some of the best wine California has to offer."
The Southern California wine tours visit wineries on the greater Los Angeles metropolitan area, Orange County and San Diego. ALS executives learned many years ago that clients want a sight-seeing experience that goes beyond the traditional visits to common tourist attractions like Disneyland and Hollywood, so they began offering tours of the local wine country utilizing the best of their fleet of luxury sedans and SUV's.
The current promotion features luxury transportation to a local winery in one of the ALS limousines, SUV's, Vans or party buses. In addition, the company has developed relationships with the wineries they serve and they can offer clients specials and coupons once they arrive on site.
Currently ALS Limos and Car Services is offering wine our packages in their 10 passenger limousine, 20 passenger SUV limousine, 14 passenger luxury van and 26 passenger party bus. This ensures that all types of client groups are accommodated. The company is also offering both a 6-hour and 8-hour tour.
To learn more, visit the ALS Limo & Car Services website at http://www.limos-la.com/ or call 1.888.722.2202 to speak with a company representative or ask for a free quote. ALS Limo & Car Services also has a presence on Facebook, Twitter, YouTube, LinkedIn and Google+.