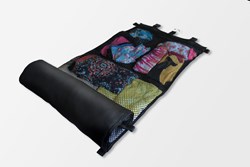 San Francisco, CA (PRWEB) November 20, 2013
Local San Francisco travel startup Rolo Adventures LLC has announced a Kickstarter Crowdfunding Campaign for their brand new travel invention: Rolo. This groundbreaking invention simplifies the entire traveling experience, eliminating the need to unpack to access your clothing.
The secret lies in the compartmentalized roll up design: Rolo's unique functionality compacts your clothing to the size of a bedroll, and allows for simple storage either strapped to the outside of your bag, or tucked inside. When it is unrolled everything stays compartmentalized and can be hung for easy access.
The founders of Rolo Adventures LLC are avid travelers themselves, and claim that they came up with the idea while exploring Europe. "It just makes sense," said Benjamin Taller. "We were surprised that no one had thought of this before. You know how it is...you get to the room and want to find your PJ's and you gotta pull everything out - Rolo solves that."
Rolo is the same size and shape as a bedroll, and therefore it can easily be attached to the outside of any backpack that has bedroll straps. This innovation can free up a great deal of backpack space when you are running low. Rolo can also be used alone instead of a suitcase for short trips, thanks to its included shoulder strap. "It really is a new way to travel", says Cheryl Mascari, an avid supporter of the Rolo travel accessory. "We really think this can help people."
The Rolo is constructed out of strong lightweight materials. It measures 17" x 3" x 3" when empty, and only weighs a little over a pound.
Rolo Adventures LLC has outlined plans to manufacture in America, and is closely working with a manufacturer based near San Francisco, CA.
Rolo is scheduled to start shipping in April 2014.
Rolo can be pre-ordered from Kickstarter by this link: http://kck.st/1aCZyfZ.