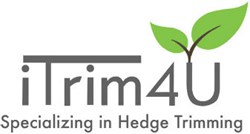 Autumn is the best time to have your hedges and shrubs trimmed before the winter arrives
(PRWEB) November 16, 2013
Whitby, Ontario: iTrim4U, a specialist in garden landscaping, is now giving customers the chance to benefit from a free estimate on trimming that they would like to have carried out before winter sets in. The landscaping specialist said that it is important for people to have their shrubs and hedges trimmed before winter sets in, and is offering the free estimates to make it easier for customers to get this work done.
iTrim4U is one of the only landscapers in Ontario to specialize in hedge and shrub trimming services, and is able to ensure that customers' gardens and outdoor areas are properly maintained over the course of the year, including in the run up to winter. Those who are looking to get their trimming carried out before winter can complete the free estimate request online via the company website. This will then enable them to make an informed decision with regards to their next step.
The landscaping company offers fully insured services and is able to provide one off trimming services as well as regular maintenance for those who want it. Both small and larger jobs are welcomed by iTrim4U, and the company is committed to high levels of customer service, quality workmanship, and competitive pricing.
An official from iTrim4U said: "Autumn is the best time to have your hedges and shrubs trimmed before the winter arrives. Since most species of hedges are dormant throughout the winter months you'll have your yard looking its best until spring time comes around. Trimming before the winter cold sets in is also the best time to trim as it is the kindest to the hedges and shrubs."
Those who want to find out more about the company's hedge trimming services can get more information online, including access to a range of testimonials from past customers that have already used the service.
To find out more, please visit http://www.itrim4u.com/
About iTrim4U
iTrim4U is a specialist landscaping service provider in Ontario, which specializes in the trimming of hedges and shrubs
Contact information
iTrim4U
11 Maplewood Drive
Whitby, Ontario L1N 7A6
Canada
Phone Number: 905-259-5138