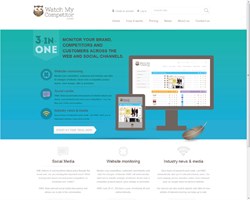 "WatchMyCompetitor, is like having your own professional market research team, watching all your online interests." Amanda Sinclair WatchMyCompetitor.com
London, UK (PRWEB) November 18, 2013
WatchMyCompetitor.com are excited to announce the public launch of their new, self service, online business intelligence engine.
Customers can now easily monitor any web site, news source or social media channel for changes of interest. Changes are displayed on the customers online dashboard and can also be received as email alerts.
Up until now, it has not been easy to monitor competitor, customer or prospect web sites for changes of interest - for example a competitor launching a new feature or product. WatchMyCompetitors web site monitoring service allows you to easily select any web site pages you want to monitor, ensuring that you are made aware when they change.
WatchMyCompetitors news monitoring service allows you to automatically search leading news channels such as Google news or Reuters news for news articles of interest, for example about your competitors. The service allows you to add in your own news feeds and also removes false news alerts through our unique "Exact Match" technology.
The social media monitoring service allows customers to monitor Twitter or Facebook for discussions about their products or services. Customers can then easily join in the conversation. The service can also be used to generate social media sales leads.
The service is useful for organisations of all sizes and can typically help marketing, product development, sales and management.
A free trial is available at http://www.watchmycompetitor.com
For further details, please contact Amanda Sinclair, Public Relations at: amanda.sinclair(at)watchmycompetitor(dot)com.