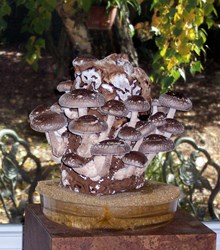 As for the Shiitake mushroom kit I set it up and was amazed to see so many mushrooms growing in just a few days...
Sebastopol, CA (PRWEB) November 25, 2013
Gourmet Mushroom and Health Products (GMHP) has redesigned and improved indoor gourmet mushroom kits and will phase them in for the holiday season. Using new technology and a time tested, nonpareil natural substrate GMHP's revamped kits can produce 50% more mushrooms per kit in the home at no additional cost to customers.
For over 24 years, GMHP's mushroom logs have been produced with a 100% recycled plant based natural substrate using methods that integrate cultural, biological, and mechanical practices that foster cycling of resources, promote ecological balance, and conserve biodiversity.
GMHP gourmet mushroom kits are designed and produced specifically for in-home mushroom cultivation and shipped directly to our customers when they have maximum potential for producing mushrooms! Some companies offer mushroom kits which sit on shelves or in warehouses for weeks or month before being offered for sale. Gourmet Mushroom Product's mushroom log kits produce the same top-quality fresh gourmet mushrooms used at many of the country's finest restaurants. Sara Rainwater of Dollar Monger enthuses: "I set it up and it quickly began to produce. As for the Shiitake mushroom kit I set it up and was amazed to see so many mushrooms growing in just a few days... This is a great kit for the impatient, like me!" GMHP mushroom log kits are ready to send to anybody in the U.S. who might enjoy growing, and then eating, fresh gourmet mushrooms in their home. Doug Oster of the Pittsburgh Post-Gazette says "Growing mushrooms is the perfect thing for the frustrated winter gardener and a great project for kids."
GMHP's mushroom logs start with Certified Organic seed, are easy to use and guaranteed able to produce. GMHP offers Shiitake, Trumpet Royale, Pom Pom Blanc (Lion's Mane), Sonoma Brown, and Blue Oyster Mushroom Kits for the Holidays. A perfect gift, GMHP's kits allow you to grow fresh mushrooms almost anywhere in your own home. Just open an all-inclusive kit, add water and watch the mushrooms grow over a period of 7-14 days. Maggie of the Dog Hill Kitchen website loved our mushrooms: "...these were wonderful mushrooms! They (Pom Pom) and the shiitakes are worth the effort of growing the logs yourself."
All Components of Mushroom Kits are recyclable as are all materials used to pack & ship the kits. Furthermore, our logs are seeded with organic mushroom spawn produced by Gourmet Mushrooms which is Certified Organic by Quality Assurance International (QAI).
Shiitake is a star when it comes to versatility. This dark brown mushroom, with caps ranging in size from 2 to 4 inches, is the most widely consumed mushroom in Asia. It has been cultivated there for centuries. Its earthy fragrance and meaty texture enhances a wide variety of dishes since the results are beautiful whether they are sautéed, broiled, baked, grilled, stir fried, or sliced thin and used in salads. Shiitake mushrooms have traditionally been used to add complexity to stews or soups, and the stems create deeply flavorful stocks. Shiitake may also be stuffed and broiled.
Trumpet Royale ™ has a wonderful nutty flavor, a resilient firm texture and eats like a steak. Unlike many mushrooms, the stem has the same superb flavor and porcini-like texture as the cap - nothing is wasted. Different aspects of its subtle, aromatic flavor will emerge depending on the style of preparation. Trumpet Royale ™ can be sautéed, grilled, braised, stewed or broiled, and its savory richness is emphasized by high-heat cooking.
Pom Pom Blanc, also called Hericium, Lion's Mane or Beard mushroom, forms pure white, finely toothed round mushrooms which have always been a rare, prized find in the woods. This mushroom has a very firm texture and a flavor reminiscent of fresh crab meat. This mushroom is fantastic with fresh vegetables, as tempura or can complement anything from a white sauce to a marinade. When baked whole, Pom Pom Blanc makes a dramatic garnish or a unique appetizer. The feathery condition is best preserved by brushing with melted butter and baking in a very hot oven for 3-5 minutes. It is also delicious shredded and tossed into hot seafood pasta.
Sonoma Brown was discovered in Sonoma County, CA. It is an extremely vigorous mushroom; Sonoma Brown Mushroom Kits often start to produce mushrooms within a week of being set up. The mushroom has a firm texture when cooked and a "meaty" or oyster-like flavor which will add both texture and zest to most sauces or dishes.
Blue Oyster mushroom has a strong visual appeal. Clusters of the blue-gray caps are contrasted against creamy white stems. The texture follows with a silky feel to the palate. They are an excellent accompaniment to fish or poultry dishes. These mushrooms should be cooked in a hot, fast method such as sautéing, grilling, or flash broiling. Brush these Oysters with olive oil, sprinkle with herbs and then bake in a hot oven for 2 to 3 minutes; when served in clusters, they make a wonderful appetizer. The mildly shellfish-flavored mushrooms are delicious when bunches are dipped in a light batter and prepared tempura style