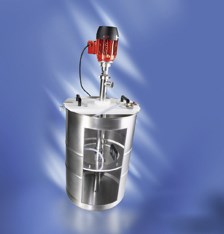 (PRWEB) December 05, 2013
FLUX-GERÄTE GMBH (FLUX) introduces the VISCOFLUX lite and the VISCOFLUX mobile to the US market.
The VISCOFLUX lite is designed to transfer barely flowing highly viscous media, such as adhesives and paint binders, out of open drums. This easy to use system consists of a FLUX eccentric worm-drive pump, drive motor, pump centering plate, follower plate, and a process seal. The system is quick to install, requires minimal space, and can be operated in areas with low ceiling clearance due to its low installation height.
To continuously and gently transport viscous materials that are just capable of flowing, FLUX engineers use eccentric worm-drive pumps. In conjunction with a follower plate, a vacuum is created during pumping which pulls the follower plate down automatically. The process seal of the follower plate hermetically seals the material to be extracted. This provides high process reliability even if the extraction process is interrupted. Almost no material remains on the drum wall. Operators will benefit from the efficiencies of the VISCOFLUX lite which is capable of achieving residuals of less than 1%.
The VISCOFLUX mobile is a stand-alone system consisting of a mobile process device and a pump unit with drive motor, pump, follower plate and an application specific process seal. This highly flexible system has been designed to transport highly viscous, paste-like, non-flowing materials both continuously and gently. This battery operated, fully mobile unit is so compact that it can even be transported in an elevator and used outdoors. The standard industrial version of the VISCOFLUX mobile is designed for the extraction of coating and casting compounds, paste-like raw substances, varnishes and fillers. It is currently available for two drum diameters with more variations underway. An optional control unit enables integration into a diverse range of filling processes. In drums with or without inliner, the VISCOFLUX mobile is capable of producing residuals of less than 1%.
The Pharma/Food/Cosmetic version of the VISCOFLUX mobile is the ideal drum emptying system for high viscosity media such as creams, ointment bases, tomato puree, condiment pastes and fruit sauces. The pumping system with motor, pump and follower plate are quick to dismantle and easy to clean. Various stainless steel components make the process device resistant to aggressive cleaning agents. The Pharma/Food/Cosmetic version sports a unique process seal that even permits transfer out of conical drums with aseptic bags. This feature allows the VISCOFLUX mobile to reduce residual media quantities to less than 1%. Due to the flexibility of the process seal, even slightly damaged barrels can be emptied with ease.
Applications for the VISCOFLUX mobile control unit include programming for end position cut-offs. On reaching a pre-defined media level in the drum, the pumping process is then stopped automatically. External signals from a balance or a fill level measurement sensor can also be processed for use in batch processing. In this way the pump drive can be switched off and at the same time a solenoid valve can be closed, such as when reaching a certain filling weight.
The control unit can also be integrated with the FLUXTRONIC® system to provide even more possibilities for batch processing. In this case, the FLUXTRONIC® can process the incoming impulse signals from a flow meter or speed sensor on the pump, and controls the switching of the pump drive and solenoid valve once the desired fill quantities have been achieved. Alternatively, the filling of a pre-set quantity can also be triggered via an external start/stop switch.
Visit Flux Pumps, Inc. at Booth 812 in the upcoming 2013 ChemShow in NYC where both systems will be on display.
About Flux Pumps, Inc.
In 1950, the world's first electric drum pump was named FLUX. Under this name,
FLUX-GERÄTE GMBH, based in Maulbronn, Germany, was founded and today is regarded as the unchallenged pioneer and world market leader in the field of drum pump technology. Today, our wide range of products include drum and container pumps, centrifugal immersion pumps, eccentric worm-drive pumps, compressed-air diaphragm pumps as well as mixers, liquid flow meters and, of course, an extensive range of accessories. FLUX pumps are used in the chemical, pharmaceutical, machine and plant construction, electroplating, sewage treatment and food industries. Internationally renowned for the outstanding quality of its products, Flux sells pumps in almost one hundred countries around the world. Flux Pumps, Inc. is a wholly owned subsidiary of FLUX-GERÄTE GMBH. Based in Atlanta, Georgia, Flux Pumps, Inc. provides sales and service support for the North American market.
Contact information:
Flux Pumps Corporation
4330 Commerce Circle
Atlanta, Georgia 30336
Phone.: (404) 691 6010
Fax.: (404) 691 6314
info(at)flux-pumps(dot)com
http://www.flux-pumps.com