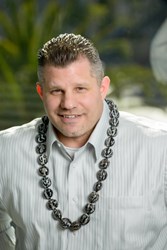 I have no doubt that Todd will help the company expand its revenue and customer base. - Kukui CEO Ryan Wilmot
San Jose, CA (PRWEB) November 19, 2013
Kukui Corporation, a developer of marketing software solutions for the automotive repair and dental industries, has appointed Todd Westerlund President of the company's U.S. operations. A marketing and sales veteran, Westerlund formerly served as Kukui's Chief Strategist.
In his new role, Westerlund will position Kukui's revolutionary platform in the market and keep industry leaders informed about product enhancements. He will also set Kukui's growth strategy, which includes managing event planning as well as industry sponsorships and partnerships. In addition, Westerlund will continue to oversee the company's sales division.
"Todd is a skilled salesman and networker with vast experience in the industries that most depend on the Kukui platform. I have no doubt that he will help the company expand its revenue and customer base," said Kukui CEO Ryan Wilmot.
Westerlund is particularly accomplished in the automotive sector – a field where Kukui serves a growing number of customers. Before joining Kukui, Westerlund served as vice president of sales for Shop Management Services, a distributor of the R.O. Writer shop management software system for repair centers. He also spent four years as a regional manager at Demandforce, where he expanded the company's automotive division.
Westerlund's automotive experience also includes serving in sales management positions at Diamond Certified, (a rating service for high-quality companies), managing Internet sales at an automotive dealership and 15 years spent as an ASE-Certified Technician.
About Kukui
With a rich history in information technology, Kukui provides businesses with a custom website platform and software solution that integrates with each organization's Point of Sale (POS) system. This empowers each of Kukui's clients with quantitative data showing their monetary return on investment, the number of new clients based on their POS system, statistics revealing their customer retention rate, and areas to improve business through the tracking of phone calls, appointment forms, and feedback from customer reviews.
For more information about Kukui, visit http://www.kukui.com.