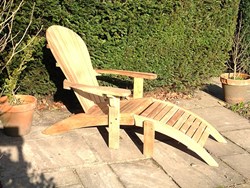 Superbly comfortable Classic American lounger.
Basinstoke, Hampshire (PRWEB UK) 30 November 2013
This new teak garden lounger is very similar to the folding Adirondack lounger but this new design is non-folding and of a more rigid and solid design. The non-folding Adirondack still has its distinctive wide flat arms and fan-tailed back rest but being of a more solid construction it is a more permanent location orientated lounger.
The wide flat arms are sufficiently wide to hold not just a cup or glass but a dinner plate or tray which was the chairs core purpose. The American designer Thomas Lee in the early nineteenth century was unable to find a comfy wooden lounger that would hold his complete diner which is why he went about designing the Adirondack.
At the time of its design Mr Lee had no idea how popular the design would eventually become and has since been copied many times over and is available made from a variety of material. Yet despite its many reincarnations good quality teak seems most fitting and popular since it is impervious to rain and can withstand the harshest of winters.
Also known as a Muskoka chair and made from a-grade heartwood teak, this non-folding Adirondack come with a sturdy and beautifully shaped foot rest that compliments the lounger perfectly.
Chic Teak Managing Partner, Robert Bowden, commented: "Since adding the teak Adirondack to our teak lounger range these classic American chairs have become very popular throughout the UK. Customers find them slightly unusual and a pleasant alternative to the more traditional teak steamer.
For more information on the new teak non-folding Adirondack lounger or any of Chic Teak's latest furniture ranges, visit their website at http://www.chic-teak.co.uk/ or telephone 0845 390 5000.