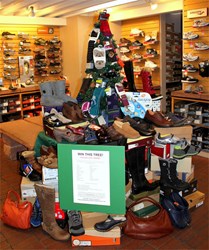 Boulder, Colo. (PRWEB) November 18, 2013
As America honors its small businesses with Small Business Saturday on Nov. 30, Boulder's Pedestrian Shops celebrate their longtime family-owned business's philanthropy, which along with selling the world's most comfortable brands of footwear has contributed to its success.
Through personal service to the community:

Pedestrian's founder and President Richard Polk continues as board chair at The Dairy Center for the Arts and board member of the Colorado Chautauqua Association.
Pedestrian's Vice President Lauren Polk Brown, Richard's daughter, runs business operations for the Pedestrian Shops from her home in Columbia, Mo., serves Boulder's Meals on Wheels and its downtown Festival of Trees, and volunteers in Columbia at The Mustard Seed, a nonprofit supporting free trade.
Younger daughter Zoe Polk, a recent graduate of DePaul University, has rejoined Pedestrian in Boulder as its operations manager and volunteers with Imagine!
Through direct support, ranging from gift card donations for elementary school fundraisers to helping when a 1,000-year rain and damaging floods hit Boulder in September:

Initially Pedestrian donated four dozen pairs of shoes through the Bridge House for people who were homeless and needed dry shoes immediately.
Then, as it became clear that more people were in need, Pedestrian solicited help from its shoe company suppliers. Hundreds of pairs of shoes were delivered to the Boulder Flood Disaster Assistance Center (FEMA, the Red Cross and A Precious Child), donated by companies including Teva, a company with heritage in the creeks and rivers that were flooding, and Naot, which donated 150 pairs from Israel. Additionally, reps from other shoe companies sent samples to donate.
Meanwhile, Pedestrian continues to support the community through donating hundreds of gift cards to neighborhood schools and other charity fundraisers each year.
Through imagination-grabbing projects demonstrating that philanthropy can be an ongoing part of a small business model, addressing real community needs and benefiting both the community and the family business:

This holiday season, for the seventh consecutive year, the Pedestrian Shops are again supporting Meals on Wheels of Boulder by participating in its Festival of Trees, raffling a holiday Comfortable Shoe Tree surrounded by thousands of dollars worth of footwear, socks, and accessories. Raffle tickets can be purchased for $5 each on the Meals on Wheels website, beginning Nov. 24. The tree's lucky winner will be able to choose any shoe style from Pedestrian's inventory, from each brand represented on the tree. Their winnings will include shoes from Dansko, Keen, Haflinger, Merrell, Wolky, Ecco, Acorn, Saucony, Kalso Earth, Cobb Hill, Sperry, Tsubo, UGG, New Balance, Birkenstock, Chaco, Sorel, Columbia, Teva, & Patagonia, as well as socks, handbags and accessories, and apparel items from Columbia Sportswear. "It's really fun to have this beautiful tree, overflowing with comfortable shoes, in the middle of our store," said Richard Polk. The Pedestrian Shops' tree can be viewed at their Downtown location at 1425 Pearl St., and many downtown merchants also participate in the Festival. Meals on Wheels will hold the drawing for each tree on Dec. 19.
Pedestrian Shops' annual Thanksgiving shoe drive collects footwear donations for the Deacon's Closet at First Presbyterian Church and other local assistance organizations. Customers may bring donations of new or slightly used shoes to either Pedestrian location between Friday, Nov. 22, and Tuesday, Dec. 10. Customers who donate shoes will receive a 10% discount on a purchase; however, a purchase is never required. Customers may use the discount to stock up on the Pedestrian's most popular styles, such as the Dansko Professional clog or a warm Columbia jacket. This shoe drive is Pedestrian's 49th. Another is held each April to celebrate Earth Day. More than 35,000 pairs of shoes have been collected for reuse by people in need.
Other recent projects include handing out thousands of pieces of candy to trick-or-treaters at Munchkin Madness in downtown Boulder each Halloween, and collaborating with Patagonia Footwear as part of its Advocate Weeks to benefit Boulder's Growing Gardens and the Center for Resource Conservation.
The Pedestrian Shops began doing business in Boulder shortly after the first Earth Day in 1970. The first shop was in a repurposed 1950s bookmobile. Its first bricks and mortar location opened in 1971 in downtown Boulder. Tales of the humble beginnings include its first store fixtures, carved from tree trunks, which required daily spraying for ants. Today, 43 years later, The Pedestrian is widely regarded as one of the world's leading retailers of comfortable shoes, operating two Boulder stores and a website, http://www.comfortableshoes.com.