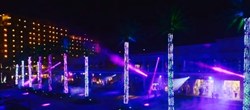 "Our goal was to create a show that allowed The Wharf to own the night." said Jon Adcock CEO of PTE Productions
Orlando, FL (PRWEB) November 19, 2013
"Spectra" is a multi-sensory light show experience that excited the laid back beach community along the Gulf Coast over the summer; transforming The Wharf into a "must see experience" instead of just another day of shopping.
More than 100,000 beach-goers and locals alike came to The Wharf during the "100 days of Summer" celebration which depicted Americana in all its glory with a fully automated lighting extravaganza.
Foot traffic to retail stores within The Wharf increased 42% for daytime traffic. While nighttime traffic increased from 20,000 guests to nearly 125,000 guests with one restaurant reporting a 44% increase in revenue over 2012.
"Spectra" created such a buzz that The Wharf was able to lease additional storefronts on the lower level retail space, drastically increasing property values.
Management of the property "wanted The Wharf to become a highlight, an important destination, for our guests visiting the region."
"Our goal was to create a show that allowed The Wharf to "own the night," said Jon Adcock, CEO of PTE Productions, "it's difficult to compete with the beautiful beaches of Alabama during the day, but when the sun starts to set, the place to be is The Wharf."
Adcock and his very capable team are known for for award winning showmanship while bringing installations in on schedule and budget.
"Spectra" thrilled management and investors by increasing rental value and tenant retention, and will continue to do so as new shows are added to The Wharf's entertainment collection.
About PTE Productions and The Wharf
PTE Productions synchronizes multiple core competencies; creating concepts that combine impactful visuals, themed audio, creative lighting and special effects to generate buzz, and attract and retain audiences. PTE Productions offers award winning innovative designs, industry leading value propositions, extensive support (before, during and after) and consistently exceeded guest and client expectations.
The Wharf (http://www.alwharf.com)
Orange Beach Alabama's premier destination resort and marina featuring the most unique selection of shopping, dining and entertainment on the island with restaurants, boutiques and stores, a 15-screen movie theater, 112 foot tall ferris wheel, live music and The Wharf's 9,600-seat Amphitheater, The Wharf's latest addition, "Spectra" is a multi-sensory light show that is a must see experience.