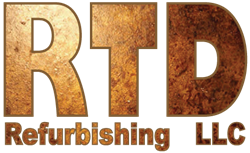 We are UN-Painters and Strippers. We love to save you the drudgery, angst and frustration in stripping your hard wood or metal furniture. We do the hard part for you and you can refinish it yourself and take all the credit.
(PRWEB) November 26, 2013
KansasCityCoupons.com recently welcomed RTD Refurbishing, a small refurbishing company in Lee's Summit, to their website. Dan and his son Ray Dannaldson have been refurbishing hard surfaces in a way that sets them apart from other companies since 2010. Unlike most refurbishing businesses, RTD does not use harsh chemicals; instead they use soda blasting to safely and gently remove paint and other finishes from any hard surface. Their process safely removes finishes on hard wood, metals, fiberglass, plastic, rubber, stone, brick, masonry and more without damaging the surface.
RTD specializes in household, commercial, heavy equipment, automotive, marine and industrial refurbishing. They can provide a solution to many common problems such as furniture refinishing/stripping, cleaning boats/trailers, renewing weathered exterior wood, glass cleaning, removing graffiti and much more. An in-depth list of the services they offer can be found on their website.
RTD offers a wide array of services; all while ensuring that the surfaces they work on are left unharmed. They now offer a coupon on KansasCityCoupons.com for 10% off on the first project. RTD Refurbishing can help make tired furniture look great again, Dan stated "We do the hard part for you, so you can refinish it yourself and take all of the credit!"
About KansasCityCoupons.com
Since 2011, KansasCityCoupons.com has been dedicated to providing consumers in the Greater Kansas City area with the best deals at local businesses. http://www.KansasCityCoupons.com makes it simple to save money, as their coupons can be redeemed by printing them off or texting them to a cell phone. They also have a VIP Text Program used to promote advertiser's special offers, coupons and to introduce new VIP text marketing programs. Additionally, KansasCityCoupons.com holds giveaways on their Facebook page for gift certificates to be spent with any advertiser on the site. There are also regular posts of great deals and hints to when giveaways will take place on the Kansas City Coupons Facebook, Google+, and Twitter pages, so like, follow or add KansasCityCoupons.com to receive notification of great offers and giveaways!