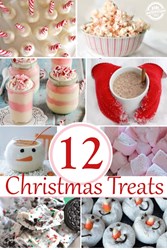 Create lasting memories together with the kids this season.
Dallas, TX (PRWEB) November 20, 2013
Christmas is just around the corner. Seasoned Moms are sharing their favorite Christmas treats and an easy DIY fleece scarf on Kids Activities Blog. Making something together as a family is what it is all about this season.
Christmas means making something together as a family and having a full cookie jar. Seasoned Moms have released a dozen of their favorite treat recipes. The list of treats kicks off with a yummy peppermint layered mousse and a cute powdered sugar snowman doughnut idea.
Turning an eggnog bowl into a jolly snowman and making Christmas drink cups out of ornaments are only a few of the nifty tips. Making North Pole tree bark, frozen grape skewers as chilled treats, and homemade cranberry orange granola bars will delight the whole family.
Peppermint popcorn, unusual hot chocolate recipes, and peppermint marshmallows can turn into great holiday giveaways for family and friends. The list of tips and ideas is endless.
Making a homemade fleece scarf together with the kids this holiday season is easy. Materials needed are 1/3 to 1/2 yard of non-fraying fleece, scissors, needle, some thread, and three plastic lids that will serve as stencils. Start by cutting a strip of fleece about 1 inch wide and the length that one wants to have for the scarf.
Use each of the three different size circular plastic lids to cut out 20 circles. Stitch the circle cut outs together with the smallest one on the top. Making wrinkles along the way adds to the final look. Finally, stitch the 20 three tiered circles snuggly next to each other on the 1 inch wide strip. Ready is the super cute and cuddly scarf.
For detailed instructions and to get additional fun Christmas tips, check out Kids Activities Blog this week. Come get inspired create lasting memories this season together with the kids.
About Kids Activities Blog
Kids Activities Blog is a website created by two moms (who collectively have 9 children), Rachel Miller and Holly Homer from June Cleaver Nirvana. It is their daily goal to inspire parents and teachers to play with kids. This interactive website publishes simple things to do with kids twice a day. Kids Activities Blog is a great tool for moms and teachers to find kid-friendly activities that create memories and sneak learning into the fun.